Expect Kylie To Wear These Kicks With Crop Tops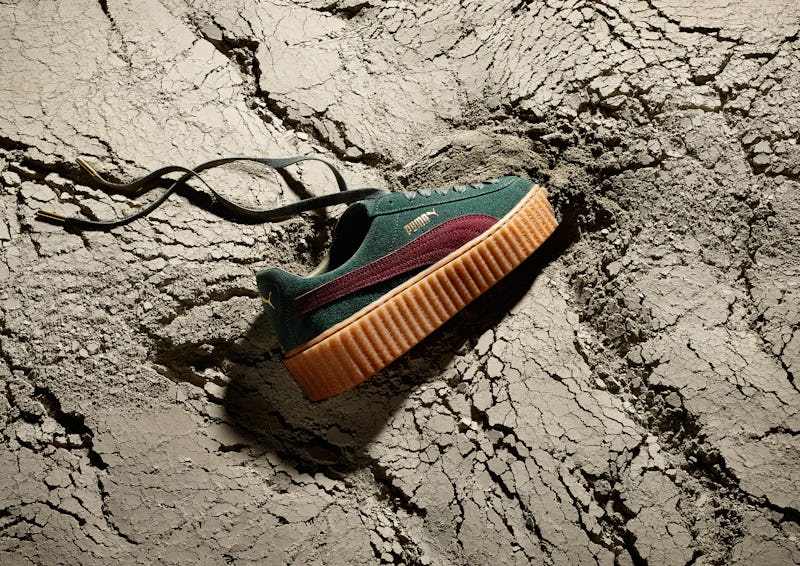 The hype and mania surrounding Rihanna's latest Puma Creepers drop was intense. The kicks sold out in 30 minutes. The Creeper hysteria was enough to make you forget that Kylie Jenner is also a Puma ambassador, appearing in ads and promoting the brand's athleisure offerings. But does Kylie Jenner wear Puma Creepers? The stylish sneakers are the perfect complement to her beloved uniform of crop tops and leggings. ICYMI, she put a majorly glam spin on that look the other day, pairing a hole-y and cropped marigold sweater with cropped black leather pants... even though it's summer. That said, I actually have not seen Jenner sporting a pair of Rihanna x Puma Creepers yet.
I love my Puma Creepers and wear them with pretty much anything. And I was actually wondering if and when Jenner would rock a pair while out and about, doing things like shopping or grabbing Starbucks, in L.A.
Jenner Snapchatted a pair of the all-white and green Creepers, thanking her Puma family for sharing these hard-to-get goods. While Jenner does not co-design shoes like Rihanna, who serves as a Creative Director for the brand, she can use her social media reach to help further promote Puma wares.
This is the screen grab of Jenner's Snap, showing off her new Puma Creepers. Her brother-in-law Kanye West might not love seeing her in these kicks — remember that whole fracas where Yeezy said that there would never be a Kylie x Puma partnership? — since he would prefer to see her in a pair of his Yeezy Boost 350s or 750s. But I can totally see Jenner slaying these with a crop and leggings.
This outfit would be bomb AF when paired with Creepers.
Seriously! You can dress the Creeper up or down and the Creeper can dress an outfit up or down.
Images: Courtesy Puma (1); King Kylie Snapchat Screenshot (1); Kylie Jenner/Instagram (2)