12 Crazy-Comfy Bras You Can't See Under Your Shirt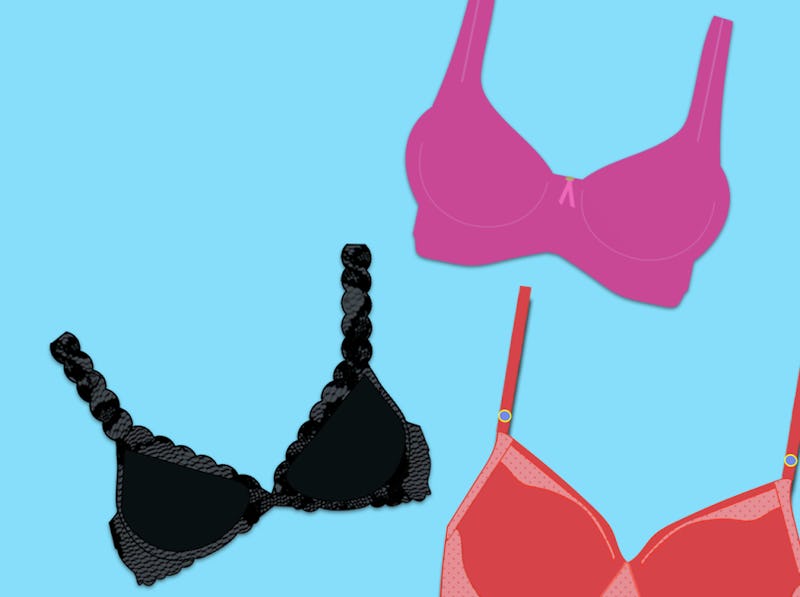 Finding the perfect bra can be a struggle. When I find a comfortable bra that won't show lines through my shirt, I buy more than one in different colors, and I wear them until they fall apart. Seriously, I was sitting on my friend's couch the other day and actually pulled the underwire out because it was starting to poke me. So, I had to part with my favorite bra, once again beginning the search for bras that don't show lines under clothes.
Luckily there are a ton of awesome t-shirt bras out there from Chantelle, Calvin Klein, and other designers that won't show through your shirt. They are comfortable, fit well, and come in a variety of colors and styles. I had no idea that in the last two years the options had increased tremendously. My underwear drawer has been missing out on some cute bras you can wear under any top. Well, I say, "No more!" I'm stocking up on t-shirt bras that I can wear with all kinds of shirts: from strapless, to racerback tank tops, to bras you wear under fitted t-shirts. Whether it's strapless, racerback, convertible or a regular bra, you'll feel supported and comfortable while eliminating the sight of bra straps and lines. You'll find the right type of bra for any occasion and any shirt you may wear.
1. Find A Bra That Is Comfortable And Comes In A Ton Of Colors
If I find a bra that comes in a lot of colors, I pick it up in more than one. This bra just so happens to come in 14 different colors and can be worn in several different ways. Wearing a racerback tank top? Connect your straps together in the back, so they don't show. Wearing a tight t-shirt? No problem, this bra won't show! Plus, it features concealing petals in the inside of the cups. It's also tag-free, has underwire for extra support and a comfort band. Basically, you'll never want to take it off.
2. Lines Become Invisible With Smooth Fabric
Finding a bra that comes in a smooth fabric is the best way to eliminate lines underneath your clothing. If you don't need as much support, opt for a wireless bra with convertible straps. Because you can change the way the straps are, you can give yourself more support, if needed. This bra is full coverage, eliminates side spillage, is invisible under clothes, is lightly lined, and perfect for everyday wear.
3. Prevent Straps From Showing With Built-Up Side Bands
Isn't it super annoying when your bra straps keep falling down or moving around, so that they peek out under your shirt? Say goodbye to pesky straps with ones that sit in the center of the bra, providing you with the coverage you want. The bra features molded cups, a rounded shape and underwire for optimal support.
4. T-Shirt Bra Doesn't Mean Boring and Basic
Don't sacrifice style for a bra that doesn't show underneath your clothes. Just because you're trying to hide your bra under your clothes doesn't mean it can't be pretty. This bra is softly-lined like a normal T-shirt bra, but features lacy straps and details. The straps are convertible and can be changed into standard, open back, crisscross or halter. The bra comes in seven different colors, which means that you can find the right shade for hiding it under a top or choose a fun color like 'Violet' or 'Sangria.'
5. Wear Trickier Tops, Too, When You Have a Seamless Strapless Bra Underneath
Off-the-shoulder tops are everywhere these days. It's such a cute style, but unless you have the right bra on, it can be tough to be fidgeting with straps all day. Go strapless, and still keep your bra invisible. Don't worry about it slipping off, either, as this bra has silicone on the inside that helps keep everything secure. It features a sweetheart neckline, which means you can even wear it with sleeveless low-cut shirts.
6. Wire-free Doesn't Mean Less Support
Sometimes, wireless bras just feel better. They can be a lot more comfortable than your standard underwire. But if you go wireless, does that mean that you lose support? Not with a U-design, which keeps your convertible straps in place and provides excellent support. This particular bra is made out of a soft material, which allows the material of your clothing to glide over it, making lines a thing of the past. Don't worry about your bust not getting the support it needs without underwire ever again. One reviewer, who said this style might be the holy grail of bras, said, "...wow, that soft, uber comfortable band is resting smoothly on my torso, BENEATH the ladies... not riding up...not cutting into my skin...IS THIS POSSIBLE?" Yes, with the right bra, it really is.
7. Say Bye-Bye To Bra Straps With A Racerback Bra
In the summer I love to wear tank tops. I generally go more towards racerback tanks, as they fit me better. So, finding a bra that doesn't show under my shirt can be tough. But now you can find racerback bras that are not only supportive and comfortable, but they're also really pretty. This lace back is gorgeous and simple (and if it does happen to show for a brief moment, I wouldn't be too upset about it). The full-coverage bra closes in the front and is versatile enough for all of the clothes in your closet.
8. Have Some Fun With A Colorful T-Shirt Bra
I love color. And if you're wearing a darker colored shirt, you really don't need to stick to nude colors. So, why not have some fun and wear a bright and colorful bra, instead? This one comes in colors like 'Dazzling Blue,' 'Ultra Violet,' 'Hot Coral,' 'Majolica Blue,' 'Lilac Chiffon,' 'Sharp Green,' and 'Snapdragon.' But don't worry, you can still buy it in 'Au Natural' and 'Night' (black), if you want to. While you're making a statement under your clothes, this nylon bra will stay invisible under your favorite top.
9. Keep It Comfy in A Super Simple Bra
There are somedays that I don't want to put a bra on. I just want to put on my comfiest clothes, and maybe I will end up putting a sports bra on. But, now you can still be comfy and have a regular bra on. This knit bra features a 'ComfortFlex' fit, which means that the fabric moves with you. It has convertible straps, too, and the bra differs from a sports bra because it still has cups and provides the same coverage that a standard bra would. The bra literally shapes to you, meaning that you'll be comfortable all day long.
10. A Pretty Bra That Stays Hidden Under Clothes
Bras that come in larger sizes often get a bad rap. I've often felt that the bigger the bra is, the more that companies skimp out on making them cute. This padded T-shirt bra is perfect because it has gorgeous lace details and has a seamless band and low neckline that makes everyday use a given because of the comfort level. This sexy bra features adjustable and removable straps and provides the coverage you need and the style you want, all for a low price. It comes in six colors.
11. Fabric Glides Over A Satin Bra
The smoother and silkier the fabric of a bra is, the easier a shirt glides right over it. What's great about this bra (besides the satin finish) is that as the size gets bigger, the amount of padding decreases, giving you a natural look. You won't have to worry about having a "uniboob" in a t-shirt while wearing this bra because your bust will look the way it's meant to in a bra. The straps are set wide, so they offer more support and stay hidden under shirts.
12. If You Want More Lift, This Push-Up Bra Does The Trick
A push up bra that's wireless and seamless and boasts memory foam padding means that you'll be comfortable, all while rocking a natural-looking lift. Your bra won't show under your clothes and your new enhanced shape will also feel supported. The bra is convertible and comfortable enough for everyday use, too.
Bustle may receive a portion of sales from products purchased from this article, which was created independently from Bustle's editorial and sales departments.
Images: Pixabay (1); Amazon (12)