See Huda Beauty's Liquid Matte Lipstick Packaing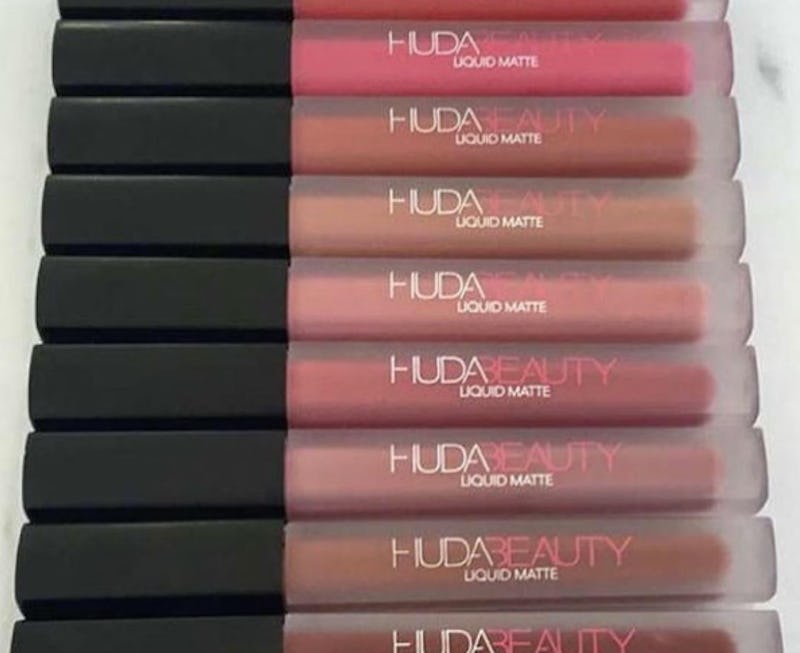 If you're a fan of Huda Kattan, the blogger/beauty influencer, then you were probably pretty stoked to hear that her lipsticks are about to be released. However, things just got even better, because Huda Beauty teased her Liquid Matte lipstick packaging — and it looks seriously cool.
Though it's taken over a year to develop (whoa), Huda Beauty is finally ready to release the Liquid Matte lipstick, and with something that took that long to come to fruition, the results better be worth it, right? Spoiler alert: They absolutely are. If you hate the way liquid lipstick feels (preach), then you might be a little turned off by this product, but that's the beauty (pun intended) of it — this product doesn't feel like wearing liquid lipstick at all. It's incredibly hydrating and nourishing, so it's the perfect blend of a lip treatment and color. Winning on all levels.
But you know what's also cool? The packaging. The lipsticks come in a white container with open lips on the side, biting the lipstick between the teeth. And though it does look similar to Kylie Jenner's Lip Kits, Kattan wrote, "We were inspired by our lash box for this packaging and really wanted to create something cool to go with the rest of the products!" So that totally makes sense.
Totally cute, right? Almost as great as the actual lip colors themselves:
Just giving you one more reason to get excited to purchase them when they drop in July.
Too good.
Image: Huda Beauty/Instagram