9 Cult French Beauty Pharmacy Picks To Snag Online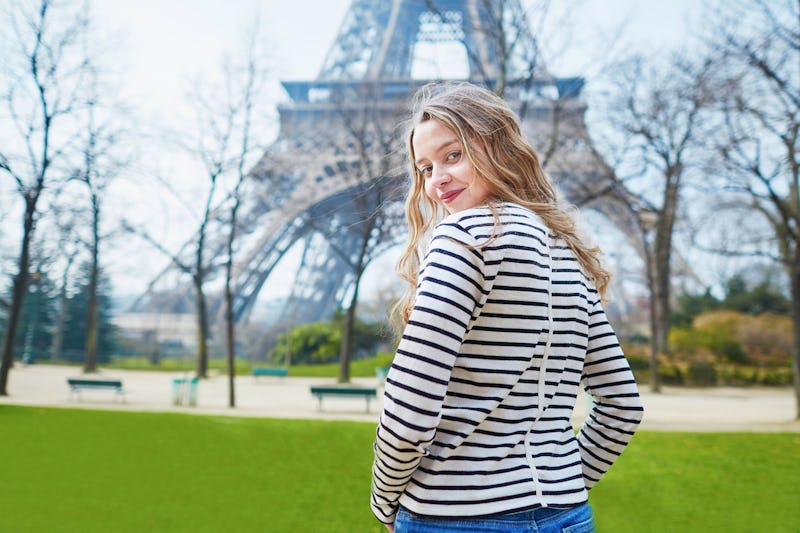 If you're looking for a complete beauty overhaul, look no further than the collection of incredible French drugstore beauty products. France is known for their best-kept beauty secrets, and these French beauty secrets (aka drugstore products) can be found all over their pharmacy shelves. Fortunately for you, the world is quickly becoming a very connected place, and you can get French pharmacy beauty brands online at home.
That's right — you can get most of the cult French beauty products right from the comfort of your own computer, and the first step should be embracing the French way of doing things. According to Mathilde Lacombe, the editorial director of Birchbox France, French women are really into the idea of "skincare as makeup," meaning that a few select skincare habits might just be all the cosmetics you need to get that naturally beautiful look.
Okay, so there may be no need for the passport or suitcase on this one. But by all means, use the nighttime detox oil below as an excuse to head on over to Europe for a week or two. (As a lover of skincare with a bad case of wanderlust, I entirely support this decision.) For anyone who's on a budget and a time restraint, however, there's the good old internet.
1. Cleanse And Hydrate With A Nourishing Shower Oil
L'Occitane Almond Shower Oil, $25, Amazon
This L'Occitane almond shower oil is a nourishing way to cleanse and hydrate your skin at the same time. The main ingredient is almond oil, which leaves skin feeling silky-smooth after a shower, and it's especially great for dry or irritated skin. You can also shave with it, and reviewers say it smells absolutely incredible.
2. Renew Your Skin With This Herbal Elixir
Caudalie Beauty Elixir, $15, Amazon
A favorite in French drugstores, Caudalie's elixir tightens the appearance of pores and evens skin tone to create a clean, clear base for your favorite makeup. It hydrates and revitalizes with natural ingredients to leave your face feeling renewed, and reviewers absolutely love the refreshing herbal smell.
3. Overcome Chapped Lips Forever
NUXE Rêve de Miel Ultra-Nourishing Lip Balm, $15, Amazon
If dry, cracked lips are an issue for you, check out NUXE Rêve de Miel's nourishing lip balm. It's got a rich texture (made from honey and natural oils) that permeates your lips to leave them feeling smooth and healthy, all with a matte and non-sticky finish. It makes for a great overnight healer, or an awesome base for lipstick.
4. Take Extra Care Of Damaged Skin
Avene Skin Recovery Cream, $34, Amazon
When damaged skin needs a little help with the healing process, many French women turn to Avene's skin recovery cream. It's created with a select few gentle ingredients that soothe and rejuvenate sensitive, damaged skin, and it's great for everything from cracking hands to allergic reactions. Beause it leaves skin dewy and fresh, it's been called the "holy grail of moisturizers" by reviewers.
5. Get Volumized Clean Hair Without A Wash
Klorane Gentle Dry Shampoo, $31, Amazon
For a volumizing pick-me-up, there's this Klorane dry shampoo. It's a staple in all French drugstores because it leaves hair looking clean and textured without a crunchy or chalky residue. Reviewers say it's great for all hair types — though especially great for oily hair — and it'll leave you looking and smelling freshly-washed every time.
6. Check Out This Oil-Enriched Matte Lipstick
Bourjois Paris Rouge, $13, Amazon
Another favorite for the lip game, the Bourjois lipstick glides onto lips, leaving a matte and professional-looking finish that stays on all day. Some reviewers say it's easily the best matte lipstick they've tried so far, and because it's enriched with oils to keep your lips hydrated, it goes on smooth and stays put.
7. Nourish Skin With Volcanic Minerals
Vichy Mineralizing Thermal Spa Water, $14, Amazon
Made from volcanic minerals that act as a natural and antioxidant-rich cleanser, Vichy's mineralizing thermal spa water rejuvenates your skin and speeds up its ability to heal itself. It's an amazing way to brighten even the most sensitive, tired skin, and because it comes in a convenient spray bottle, you can use it morning or night to give your complexion a burst of freshness.
8. Hydrate And Heal Skin Overnight
Caudalie Detox Oil, $32, Amazon
Specifically for overnight use, Caudalie's detox oil is a completely plant-based formula that helps your skin to renew and re-hydrate itself all while you sleep. Because it soaks right in without any residue, it won't cause breakouts, and reviewers say it smells like spa day. One excited reviewer says, point-blank, "This is the best thing I've ever done for my face."
9. Remove Makeup The Way Makeup Artists Do
Bioderma Crealine Makeup Remover, $26, Amazon
This Bioderma makeup remover feels just like water, but it's one of the most reliable ways to remove any and all makeup without any hassle whatsoever. It's got no smell, a super neutral texture, and it helps to cleanse and tone skin while it works. That's why reviewers (along with makeup artists and models) call this the "best way to remove makeup ever."
Bustle may receive a portion of sales from products purchased from this article, which was created independently from Bustle's editorial and sales departments.
Images: Fotolia (1); Amazon (9)