Prime Day Sales: Headphones, Phone & Laptop Cases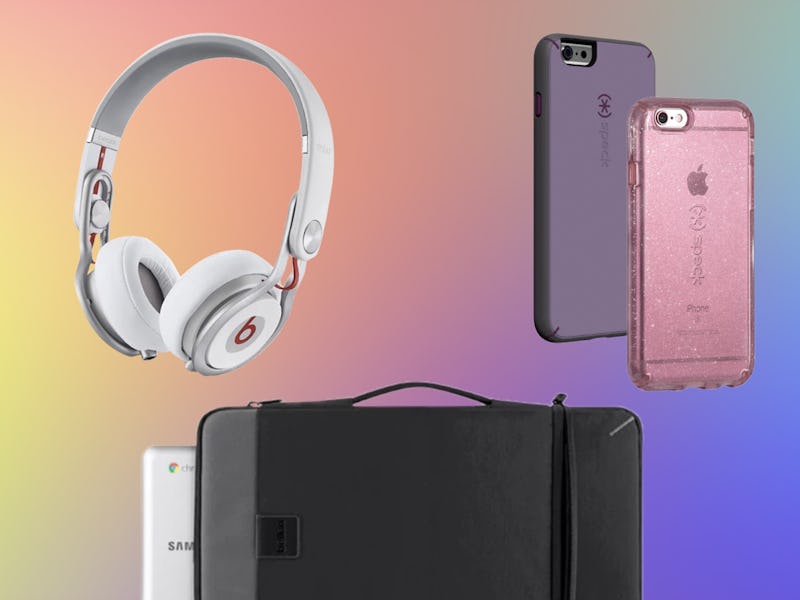 It's the most wonderful time of the year for online shoppers — that's right, Amazon Prime Day 2016 is upon us. If you're looking for online Prime deals on headphones, phone, and laptop cases, don't get overwhelmed. Simply refer to this cheat sheet with 20 of the best electronics on sale for Prime Day, in order to lock down some awesome prices on tech gear you may have been eyeing for moths.
In what the company has called its "biggest global event...ever," around 100,000 items will be sold at discounted prices for Amazon Prime members, all for your "Add to Cart"-ing pleasure. Getting electronics for cheap isn't the only Prime deal to take advantage of, either — you'll find discounts up to 50 percent off skin care, and makeup and TV deals are looking great, too.
Whether your only plan of attack is to have no plan, or you've been lying in wait until the annual event rolled around again, take this guide with you! Beginning at 12 a.m. PST, enjoy some of the biggest discounts on the coolest products this Amazon Prime Day, and make sure you start with these.
(Not a Prime member? Sign up here for a free 30-day trial.)
Beats Studio 2.0 Wired OverEar Headphone, $186.20 (Was $300), Amazon
With dual-mode adaptive noise cancelling capabilities, the Beats Studio OverEar allows you to take calls and control music with its RemoteTalk cable.
Powerbeats 2 WIRED In-Ear Headphones , $106.50 (Was $150), Amazon
If you want an upgrade on your current earbuds, these in-ear headphones are it. Their lightweight design and flexible earhooks make them ideal for the gym because, you guessed it, they're also sweat-resistant.
Sennheiser MM 450-X Wireless Bluetooth Headphones, $244.99 (Was $350), Amazon
These headphones offer true noise-cancelling technology, an invisible microphone, and a two-year warranty all wrapped up in a sleek black exterior.
MEE audio Matrix 2 Headphones with Headset, $64.99, Amazon
The sound quality of the Matrix2 is stellar. Smooth treble, ringing vocals, and heart-pounding bass all come through plush headphones that are just as capable of rocking your musical world as they are at taking your phone calls.
Panasonic RPHC200K Headphones , $35 (Was $40), Amazon
Panasonic's lightweight headphones are so comfortable you can — and probably will — wear them all day. With a retro look and a snug fit, they're designed to reduce outside noise by 81 percent.
Bowers & Wilkins P3 Headphones, $179.99 (Was $195), Amazon
Another retro design, these Bowers & Wilkins gems are fitted with bespoke fabric that wraps around the edges of the speakers for a tighter seal, and ultimately, better sound quality. Goodbye, outside world.
Philips NC 1/27 Fidelio Noise Canceling Premium Headphones , $292 (Was $300), Amazon
These headphones are packed with enough noise-cancelling technology to ensure you'll never hear the plane engine on takeoff ever again. Fashionable and functional, to the extreme. Fitted with memory foam, no noise-cancelling hiss, and serious Hi-Fi sound.
Beats Mixr On-Ear Headphone , $119 (Was $149), Amazon
Meant for the DJ within you, the housing of these headphones was designed to be sturdy and highly acoustic. Because who wants to ruin a set when you can't hear your mix over the din of partygoers?
EYN Smartphone Case, $12.90 (Was $24), Amazon
When you want to leave the house with just a few things, but not everything, this is the only case you need. Room for a key, credit card, and, perhaps, a moist towelette, make the EYN a no-brainer in our modern, smartphone-driven world.
Speck Products Fabshell Case, $13 (Was $30), Amazon
For the Galaxy user who wants to pep up their case game, this snap-on combines the durability of a hard shell with the flexibility of a skin.
Speck Products CandyShell Grip Phone Case, $15.90, Amazon
Finger pads for better grip and a shock-absorbent design put the CandyShell Grip case at the top of the must-have list for any HTC user. Don't worry about dropping your phone again with this one!
Speck Products Candyshell Glossy Cell Phone Case, $13.40 (Was $19), Amazon
You can't go wrong with basic black, especially when it comes in glossy and protects against scratches. This case is high-quality with a bit of shine and tons of shock absorption.
Case Mate Cell Phone Case in Champagne, $20.60 (Was $29), Amazon
Ring ring? Bling bling. Shimmery without being too obnoxious, this case is perfect for the smartphone user in need of a glittery upgrade. Transparent and oh-so slim.
Speck Products Might Shell Case, $33.90 (Was $46), Amazon
Nothing too crazy here, just a solid case in a dusty purple coating. Its hard shell construction offers your iPhone three layers of protection without the bulk of other shock-absorbing cases.
PureView Clear Case , $11.99 (Was $20), Amazon
The ultimate case for those who hate cases (myself included,) this clear iPhone housing is "there" enough to protect your cell without the annoying "I-picked-this-case-because-it-represents-my-personality" overtones that you're trying to escape by going case-less.
Speck Products Cell Phone Case in Beaming Orchid Gold Glitter, $27.65 (Was $40), Amazon
Speck's glittering orchid case stays clear by resisting that nasty yellowing effect time likes to bestow upon our favorite transparent products. A hint of color with a touch of sparkle is what you get here.
EYN Products Ultimate Phone Case in Syrah , $20.99 (Was $30), Amazon
Another awesome EYN product, thanks to its hinged back and hidden storage space. In short: hide yo' keys, hide yo' gum — we be storing everything in there.
EYN Products Ultimate Phone Case in American Flag, $20.99 (Was $30), Amazon
Pure novelty with a cool antique vibe, this case keeps Old Glory close by — and you'll get to admire her all the time.
Belkin Slim Travel Sleeve for Laptops & More, $16.09 (Was $22), Amazon
Designed for protection and minimal heft, the Belkin slim travel sleeve is perfect for the laptop user who's always on the go. Slide your machine in, toss it in your tote, and never worry about scratches.
Belkin Air Protect Case for 11-inch Laptops , $25, Amazon
Designed for 11-inch machines, this bag is perfect for the student or the freelancer. The hideaway carrying handle makes transporting your laptop or tablet super simple, and its shock-absorbing materials are perfect for accidental drops.
Don't miss out - check out all the special deals for Prime Day!
Bustle may receive a portion of sales from products purchased from this article, which was created independently from Bustle's editorial and sales departments.
Images: Amazon (20)