10 Things To Make Sex More Fun For Anyone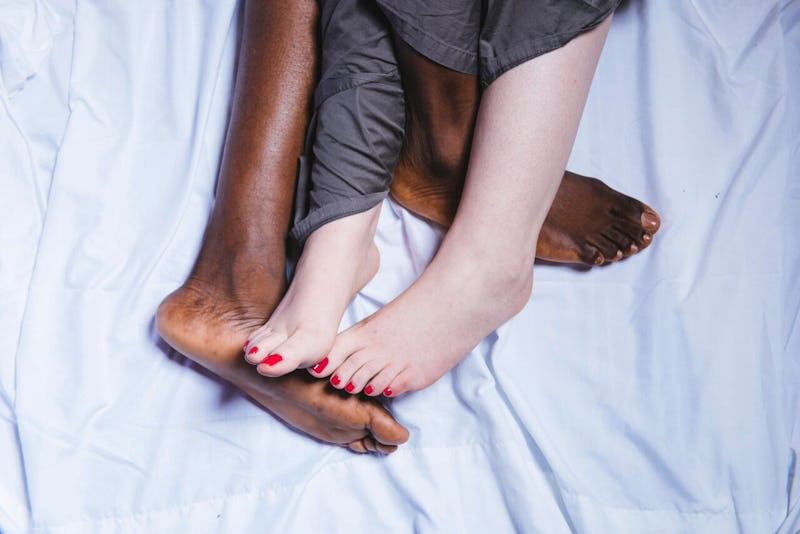 In a country that's perpetually using sex to sell everything from cars and burgers to shows and songs, I'm astounded that more people aren't comfortable talking about it, especially when sexual ruts happen. Fortunately, sex therapists can offer some insight on how to make sex more fun, as every couple can find themselves in a rut sooner or later. When you hit the point where you no longer feel the urge to mount your partner in ten minute intervals, it's okay — it happens to everyone. It just means that you need to shake up your sexual routine a little bit.
When it comes to the happiest couples in the world, scientists found some common threads: they all communicate regularly, are intimate with each other pretty often, and are willing to try new and exciting activities together. Actions that are more likely to ruin things? Criticizing and judging. Your bedroom should be an open place where you're willing to listen, experiment, and try new and sexy things, but if you're not sure where to start, no worries. Here's a list of the best advice from top sex therapists and marriage counselors, so that you can keep your sex life exciting.
Try A Massage To Spice Things Up
Earthly Body Massage Oils Kit, $22, Amazon
Sex therapist Vanessa Marin told Bustle she recommends a sexy hands-on approach: "Offer to give your partner a massage. Have them get naked and drape a sheet or blanket over their body. Stick with the standard moves for a while, then slowly start to inch your way under the sheet." These Earthly body massage oils are a completely natural blend of essential oils, and are great for some bedroom foreplay, as the five different scents are erotic, smell fantastic, and have an incredibly relaxing consistency.
Try Roleplaying & Sharing Fantasies
131 Sex Games & Erotic Role Plays, $8, Amazon
Moushumi Ghose, an LA sex therapist, told Huffington Post, "If more couples felt comfortable sharing their secret fantasies and fetishes, it could definitely build intimacy, not to mention excitement and tension!" If you're not sure where to start, or feel a little bit silly, try 131 Sex Games & Erotic Role Plays. It's filled with erotic situations, tips, and ideas to get the ball rolling, and reviewers have called it, "A fun way to enjoy the bedroom."
Get A Sex Toy You Can Use Together
ZEMALIA Waterproof Couple's SexToy, $20, Amazon
"Send your partner a sex toy in the mail," sex therapist Vanessa Marin says in her blog, "or bring a wrapped one home with you and leave it on the table. Include a note that says, 'can't wait to try this out together sometime soon.'" This Zemalia waterproof couple's toy is great for heterosexual couples, as it stimulates the penis and the clitoris simultaneously with soft body-safe silicon and a waterproof design.
Up Your Adrenalin Levels
A recent study in Archives of Sexual Behavior says that after finding themselves in an adrenalin-pumping situation, men and women found their partners much more alluring. In other words, it's a total libido-booster, and sex therapists seem to agree. "Doing something new and scary with your partner will bring you closer," says Dr. Laura Berman, "whether it's watching a horror movie, riding a roller coaster, or bungee jumping."
Do Everything Except Intercourse
Sexy Truth or Dare, $12, Amazon
Sex therapist and best-selling author Ian Kerner told Huffington Post, "Try taking intercourse off the table, leave orgasms on, and see what your sex menu ends up looking like. Give outercourse a shot: think oral sex, manual stimulation, lots of kissing and rubbing." This Sexy Truth or Dare game comes with 100 double-sided seductions written on easy-to-grab sticks that ignite the sparks, initiate foreplay, and promote conversational bonding.
Try A Little Light Bondage
Lzhi Black Leather Bondage Restraint System, $20, Amazon
"Blindfold your partner or have them blindfold you," Marin suggests. "Use a scarf or tie to restrain your partner's limbs, or have them tie you down." This Lzhi bondage restraint system is awesome for beginners and experts alike, as although it's made from high quality material and has everything from cuffs to a blindfold, it's also easy to use and adjustable to fit anyone.
Watch Some Porn Together
As Kerner told Huffington Post, "Watching porn together is a great way to jumpstart arousal that leads to sexual desire. Approach it as though you were channel surfing and explore all types of porn." If you're not comfortable with mainstream stuff, try Googling female-friendly porn, or reading erotic fiction to each other.
Opt To Wear Something Other Than Your Birthday Suit
Amilia Sexy Lingerie (M-XL), $6-$10, Amazon
"Wear lingerie or a hot outfit while having sex," sex therapist Vanessa Marin suggests. "Push underwear to the side." This Amilia lingerie is a chic and sexy one piece, and although it covers enough of your body to leave a bit to the imagination, the plunging neckline, backless design, and open crotch ensure that it won't get in your (or your partner's) way during sex.
Have Sex Somewhere That's Not The Bedroom
Liberator Jaz Original, $59, Amazon
As Dr. Laura Berman told Everyday Health, "Just by having sex somewhere new (and somewhere slightly scandalous) you can get out of a sex rut and embrace your inner daredevil!" If you're going at it in the car, on the couch, or on the counter, the Liberator positioning pillow makes it a whole lot easier. It provides comfort and the correct angle with sturdy and durable foam, and the cover comes off, so you can wash it in the machine.
Take Initiative
31 Days to Great Sex, $11, Amazon
Sex therapist Dr. Laura Berman also told Everyday Health that most sex lives fall short when you're constantly waiting around for your partner to take the lead. "You have to take the initiative, make the first move, and spice things up with your own two hands." For all the motivation you'll need, check out 31 Days to Great Sex . It's jam-packed with insights, suggestions, and challenges to guide you through all three levels of sexual intimacy and potentially give you the most exciting sex of your life.
Bustle may receive a portion of sales from products purchased from this article, which was created independently from Bustle's editorial and sales departments.
Images: Andrew Zaeh/Bustle; Giphy (2); Amazon (10)