Cover FX's Click Stick Is A Summer Must-Buy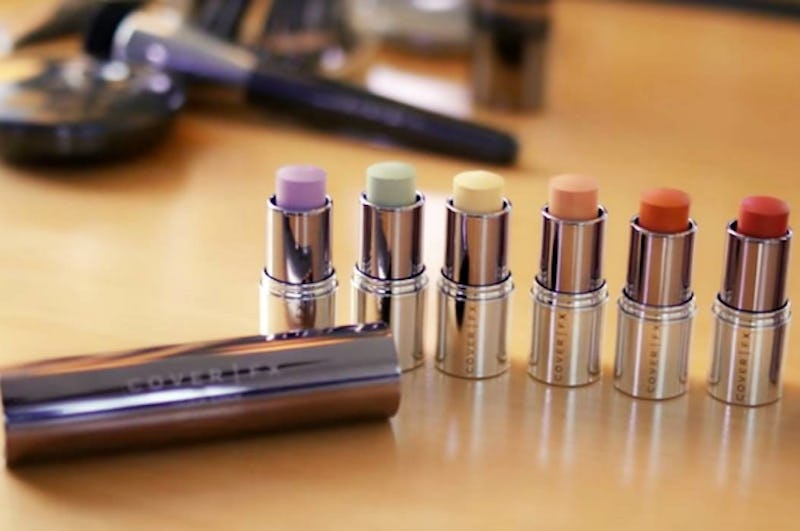 Cover FX is killing it in the makeup game lately, first, releasing unexpected and innovative products like metallic liquid highlights, and now, a new on-the-go stick. Here's where to buy Cover FX's Click Stick because every busy or lazy girl need one.
If you're anything like me, you probably have a bag of makeup products at the bottom of your purse. Powder compact, concealer, foundation, etc. — you never know when you may need to touch up. But all those products can be heavy and generally a huge pain to lug around, plus, they can break easily in your bag. The solution? Cover FX just released a dual-ended, customizable Click Stick that corrects, covers, or highlights on the go.
So how does it work? According to Cover FX, you can choose two of the three possible "clicks" to load into your stick. Correct Click helps combat discoloration, while Cover Click is full coverage foundation and concealer. Enhance Click is a highlighting shade. You can pick two for your click and even switch them out depending on your needs. You could have a foundation and corrector, a highlighter and concealer, or any combination you can imagine. Basically, it's a game-changer for girls on the go.
Each "Click" retails for $18, and the Click Stick is $2. A complete set costs $44, which is a great price for a multi-use, travel-friendly product. Each Click has a range of options for customization, so you can absolutely get your money's worth.
Empty Click Stick, $2, Sephora
Cover FX Customizable Click Stick in Correct, $18, Sephora; Cover FX Customizable Click Stick in Cover, $18, Sephora; Cover FX Customizable Click Stick in Enhance, $18, Sephora
So where can you buy these beauties? They're available at coverfx.com and in stores at spots like Sephora, Harvey Nichols and House of Fraser.
It's definitely a must-buy for summer vacation, beach trips, and, well, life in general. Go grab one ASAP!
Image: Cover FX/Instagram