Chad Has More 'Bach' Enemies Than We Thought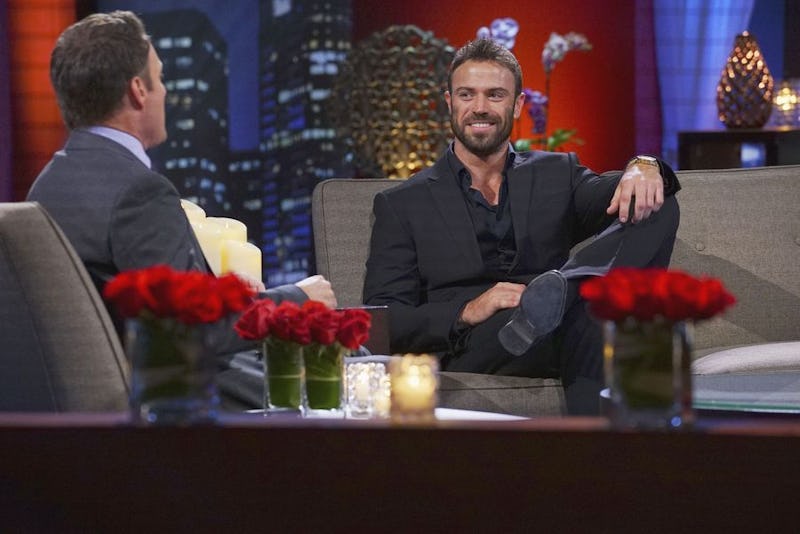 To say that Chad was unpopular on The Bachelorette would be a bit of an understatement, but it turns out he has even more enemies than we originally thought. Sure, we've seen and read about his feuds between Evan and Alex, but what happened between Chad and Nick B. on The Bachelorette that has made Nick so angry? Shortly after Chad came out to chat during the Men Tell All episode, Nick B. (aka Saint Nick, the guy who dressed up as Santa) stood up and took his jacket off as if he was getting ready to fight him. And while I understand that Chad has the ability to evoke strong emotions from people due to the things that he says, I was a little surprised to see how much it appeared to impact Nick B., whom from what I can remember, didn't interact with him all that much.
Chad ripped Evan's shirt and threatened to harm him; he pushed Alex around a little bit and made sarcastic remarks about his height. Heck, he's even gone so far as to hang out with both Grant and Robby's ex-girlfriends after The Bachelorette and post about it on social media. But what did he ever do personally to Nick B.? From what I gather, it must be that Nick is just so fed up with seeing this guy constantly get put in the spotlight for being a jerk that he just wants to bring him down a peg or two on principle. But really, when you think about it, offering to fight Chad is really just bringing yourself down to his level.
Is Chad the easiest person to get along with? Absolutely not. But violence isn't the answer here and I was just shocked to see it come from the guy who made his grand debut to the show dressed as Santa Claus. Let's just hope that he's able to calm down by the time the episode is over so that they don't go out back and "finish this later" as Chad indicated. Just think: What Would Saint Nick Do?
Image: Byron Cohen/ABC