How To Put Together An Entire Look In 5 Minutes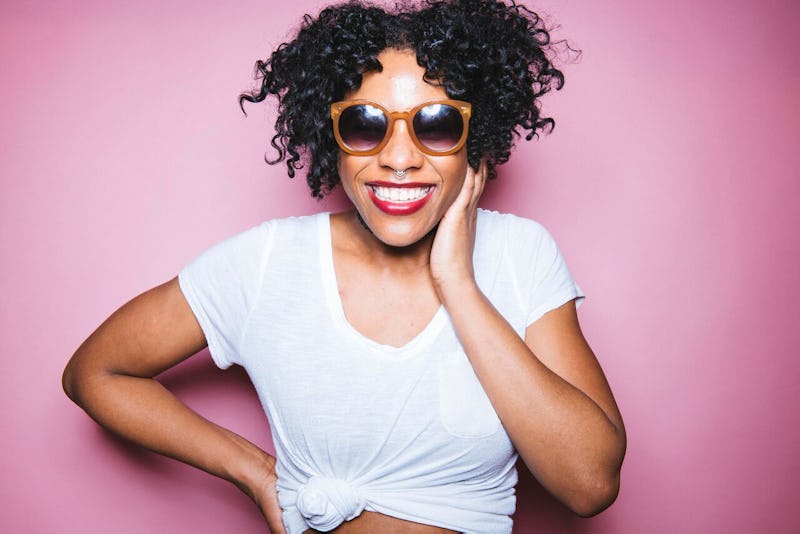 You overslept, the meeting ran late, or you just got caught up in that SVU marathon. The bottom line is you only have five minutes to get ready and look presentable. It happens to all of us — and in fact, sometimes it happens to all of us a lot. It's kind of inevitable in a fast-paced world full of responsibilities, appointments, and distractions.
And while getting ready when you have basically no time is never a particularly fun process, the key usually comes down to honing in on a handful of steps that take the least amount of time but that will make the biggest impact on your overall look.
The tricky part, however, is figuring out what exactly to focus on. The outfit? The hair? The makeup? What exactly will help make us look like we didn't wake up exactly 28 minutes before the big meeting? Or what will make us feel totally confident when we have to show up at that party and we know a ton of other people there spent a solid hour and a half getting ready?
If you're in need of some serious getting-ready-in-a-hurry hacks, the good news is they absolutely exist and they truly make a significant difference. And to make it easy, I've compiled the top 11 tips for looking pulled together fast into one handy list.
1. Grab A Dress
In a piece for Stylecaster, certified image consultant Annette Harris said, "The quickest and easiest look for women is wearing a dress. There is little to no thinking involved, which of course is key when you are frazzled." Harris recommended pairing with pumps and a piece of statement jewelry to look instantly pulled together.
2. Have Basic Staples On Hand
Free People Long Beach Ribbed Tank Top, $20, Macys.com
And if you're not a dress person, Harris suggested going for black pants, a tank, a blazer and pumps. "This look is still quick and easy and only requires an extra item or two."
3. Invest In Statement Necklaces
Green Antique Flower Statement Bib Necklace, $13.99, VIPme.com
When I had celebrity stylist Christina Pacelli edit my wardrobe, one of the biggest lessons she taught me was the power of a statement necklace. "With the right statement necklace, all you need is a white T-shirt and a pair of pants and you're good to go, because the necklace does everything," she said.
4. Belt It
Sash Samba Belt in Taupe, $19.99, ModCloth.com
Much like the power of the statement necklace, Pacelli also taught me that tucking in your shirts and adding a cute belt instantly helps to tie a look together and makes you look more polished. Even if it's just jean shorts and a t-shirt, you'll instantly elevate your look overall.
5. Dry Shampoo
Klorane Dry Shampoo with Oat Milk, $10, TheDermStore.com
Dry shampoo is probably the most life-changing beauty product I've found in the last five years. It instantly cuts grease (no shower necessary), and the right brand can even give your hair added volume. It has seriously become a beauty staple. My personal current favorite brand is Klorane.
6. Hair Accessories
A simple hair accessory, like a headband or bow, will instantly make it seem like you put more time and effort into your look than you actually did. I have ironically gotten more compliments on my hair when it's haphazardly thrown back into a bun with a bow on it than on days when I legitimately spend time on my hair.
7. Keep Face Wipes Handy
Simple Cleansing Facial Wipes, $3.27, Pharmapacks.com
When it comes to your face, absolutely nothing saves time more than having facial cleansing wipes handy. Your normal cleansing routine (i.e. going to a bathroom, lathering up, and drying off) will be reduced to less than a minute. I find facial wipes to be so effective that I often use them when I'm not even in a rush.
8. Concealer
CLINIQUE Redness Solutions Instant Relief Mineral Pressed Powder, $34.50, Sephora
In an email exchange with LA-based makeup artist Ashley Gomila on makeup tips for when you're in a rush, Gomilla tells me that if you only have time for one thing, concealing discoloration and controlling redness will yield the biggest results. For canceling redness, she raves about Clinique's Redness Solutions Instant Relief Mineral Pressed Powder. I've since tested it out at Sephora and can vouch for the fact that this stuff seriously works!
9. Mascara
In another email exchange, this time with the professional makeup artists (and sisters) Sam and Nicki Chapman, the Chapmans say that if they only had time for two makeup products (concealer being the first) they'd go with mascara, as it "frames the face." So if you have an extra 30 seconds, go for it!
10. Bold Lip
I've also personally always found that a bold lip color instantly pulls my look together — even if I have the time for literally nothing else. After throwing on a dress and pulling my hair back into a bun, red lips often complete the look and creates the illusion that I'm way more pulled together than I actually am. Even if you're not usually a big lipstick person, I'd recommend keeping at least one bold red around for just this reason.
11. Perfume
According to a study in the Journal of Cosmetic Science, the simple act of grooming can positively affect self image. The study's author, Jorien van Paasschen, PhD, said that even just putting on deodorant or dabbing ourselves in perfume instantly makes us more confident in our appearance. So after throwing on that dress, placing a bow in our hair, and concealing those under eye circles, spritz yourself with your favorite scent and waltz out the door!
Looking polished in less than five minutes isn't as hard as it sounds. It's about making sure you always have a few basic staples on hand, like a dress or black tank, and then making sure you know where to direct your energy when it comes to hair and makeup. Now go forth and look amazing (and spend an extra half hour surfing the web, because now you have time to do both!).
Images: Pexels (4); London Scout, Nicklas Bajema/Unsplash