How To Make An All-American PB&J — VIDEO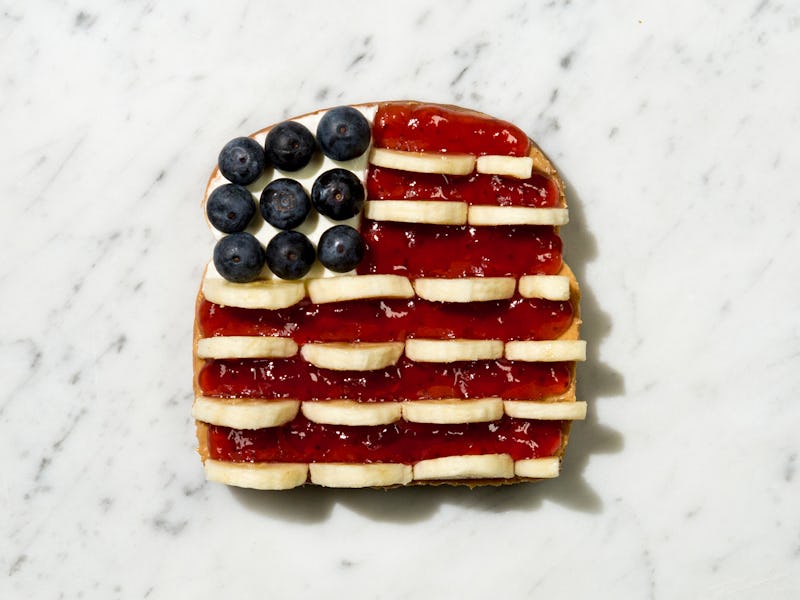 Who doesn't love a good PB&J sandwich? If you ask me, I'd say it's one of the finest pairs in the history of all food pairings. The best part is that there is no wrong way to make a peanut butter and jelly sandwich. Maybe you like your peanut butter chunky and your jelly topped with bananas and strawberries. Maybe you just like a good-old classic sandwich with the crusts cut off. Or maybe you like peanut butter and jelly spread evenly on both sides of the bread. Whatever your preference may be, it's guaranteed to be delicious no matter which way you slice (or spread) it. So naturally, in the spirit of the 2016 Olympic Games in Rio, we decided to take our love for PB&Js to the next level.
With the help of Smucker's® — a proud sponsor of Team USA — we came up with mouthwatering, patriotic, PB&J concoctions that are not only tasty, but also social media-worthy. Whether you're watching the Games on your own or hosting a viewing party, you'll impress everyone in the room with these amplified PB&J recipes.
Check out the recipes in the video below!
This post is sponsored by Smucker's® , proud sponsor of Team U.S.A. Every #PBJ4TEAMUSA tweet you send will help back Team USA, giving $1 to the U.S. Olympic Committee in support of our athletes and future U.S. Olympic hopefuls.*
*Maximum $200,000