Meghan King Edmonds New Puppy Is Like Her Baby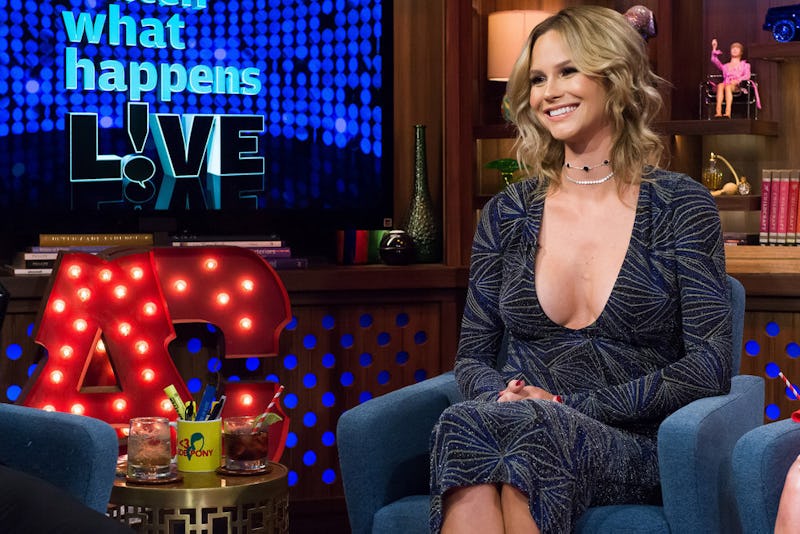 If you follow Meghan King Edmonds on Instagram, then you know how much she loves to share photos and videos from her daily life. For example, the Real Housewives of Orange County star showcases her baby bump constantly and, yes, it's the cutest thing in the world. She is clearly ready to be a mom and is embracing every bump (figuratively and literally) along the way. Seeing as this is the first child for Meghan and her husband Jim Edmonds, she can't help but capture every moment of her pregnancy. That also includes a particular recent addition to her family. I'm talking about Meghan's new puppy, Girly Girl, who has been by the reality star's side since pretty much the beginning of her pregnancy.
Girly Girl is a teacup golden doodle and looks exactly like a teddy bear. Her cuteness is more than I can handle. At times, she doesn't even look real, because she is just that perfect. The way Meghan treats her (she is basically a princess) not only proves that the 31-year-old is ready to be a mom, but that Girly Girl also makes for great preparation before the baby arrives. Meghan has already experienced several milestones with Girly Girl and is raising her like a child, so when her actual baby arrives, she will be beyond prepared.
Here is further proof of just that and the fact that Girly Girl is giving Real Housewives of Beverly Hills' Lisa Vanderpump's Giggy a run for his money in the cuteness and most spoiled pet category.
The Big Announcement
Somewhat similar to how she and Jim announced they're expecting.
Her Anticipated Arrival
I have a feeling Meghan will share something similar once her daughter arrives.
The First Trip
It's a huge milestone that must be captured.
Meeting The Family
Aww. She and her uncle are pretty cute.
The Playdate
It's important to make friends.
The Family Photo
It's frame-worthy.
Her First Time Shopping
Do you think she picked out anything cute for her big sister?
Trying Solid Food
Who knows if she liked the taste, but it makes for a great toy.
Learning Life Lessons
Meghan teaches the important things in life and shows why she'll be a great role model for her daughter.
First Trip To The Doctor
It's a big deal.
Keeping It Safe
Learning all about safety is important at a young age.
Sisterly Love
Girly Girl and her sister are already bonding.
Yep, Meghan is taking her role as a mom seriously.
Image: Charles Sykes/Bravo