Josh & Amanda Could Be Engaged Post-'BIP'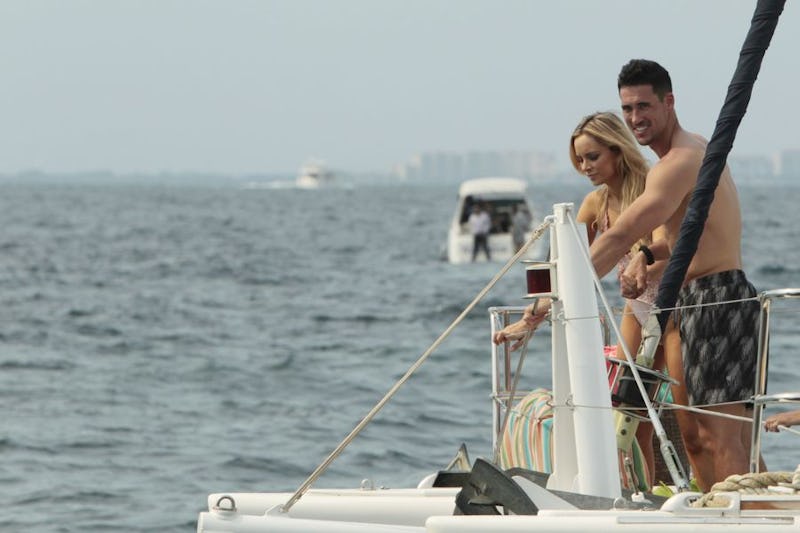 As hard as it is to fall in love on shows like Bachelor in Paradise, but it absolutely can be done. I mean, just ask Tanner Tolbert and Jade Roper, who got married on an episode last year. And now, it looks like yet another couple has found everlasting love, thanks to the help of a little ocean breeze and Jorge's cocktails. On BiP's first after show of the season, After Paradise, it was insinuated that Amanda and Josh could be engaged after Bachelor in Paradise. After all, as TMZ recently reported, they're definitely hanging out post-show.
According to TMZ, Josh and Amanda were spotted together at the Orange County Fair last week with Amanda's kids... complete with photos. I mean, I don't know about you, but I don't see many people hanging out as friends at places like the fair when kids are involved. And after seeing their rather graphic make out sessions on BiP, I'm inclined to believe that passion carried them through the rest of the summer and they're still together today.
Oh, and a fan also caught them together at Target, which After Paradise also brought to my attention. As Sean Lowe said, what are they shopping for home goods for their life together?
If they're still together — and running errands, at that — it would make sense that they happened to be one of the couples who get engaged at the end of the season, we do know that creator Mike Fleiss has said there's three happy couples at the end of all this.
Sigh. Looks like some more of those makeout sessions are in our future. Buckle up, BiP fans. It's going to be a long season.
Image: Rick Rowell/ABC