Chad & Sarah Buried The Hatchet After 'BIP'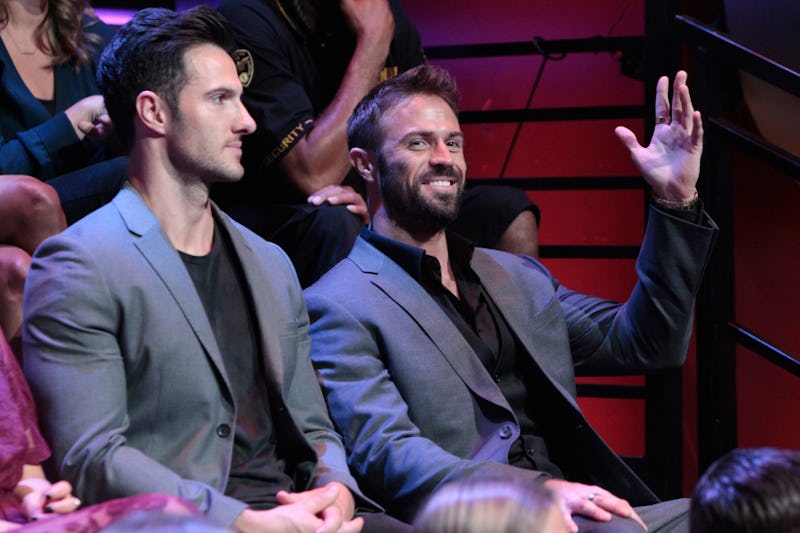 Chad Johnson has been persona non grata from day one on The Bachelorette, so it's not really that surprising that he's still stirring up trouble on After Paradise. Chad prided himself on being a truth-teller on The Bachelorette — he refused to kiss JoJo's feet after only having known her for two weeks, and I agreed with him on that. But, the drunker he got, the realer he got (especially on Bachelor In Paradise), and he said some hurtful things, especially to Bachelor alum Sarah Herron. Luckily, he realized the error of his ways and Chad apologized to Sarah on Bachelor in Paradise's after show.
On Chad's first night in Paradise, he and Lace were hitting it off, but as the drinks kept flowing, Chad started losing control. Sarah told him to quit it with the drunk antics and misogynistic backtalk (and it was awesome), and Chad called her that "one-armed b*tch," which is probably the worst thing he could have said about a cherished member of the Bachelor family to a national television audience. Like, seriously, Chad? There was some apologetic tweeting back-and-forth from Chad to Sarah as the show was airing, and Chad finally told Sarah in person how sorry he was for his stupid, idiotic, drunken comments while they were on After Paradise together. She accepted, and it seems like that was squashed for good.
I feel for Chad here. He's said a lot of stupid things during his time on The Bachelorette and Bachelor In Paradise, but I think he's been villainized to a point where people think he's not even human. We all make mistakes, and the fact that Chad is going back on television to say he's sorry for the stupid things he has said and done shows that he is learning and growing as a person. Sarah forgave Chad for his idiocy, and now everyone can move on and let them both live their lives.
Images: Rick Rowell/ABC