This 'Fuller House' Season 2 Spoiler Is Fantastic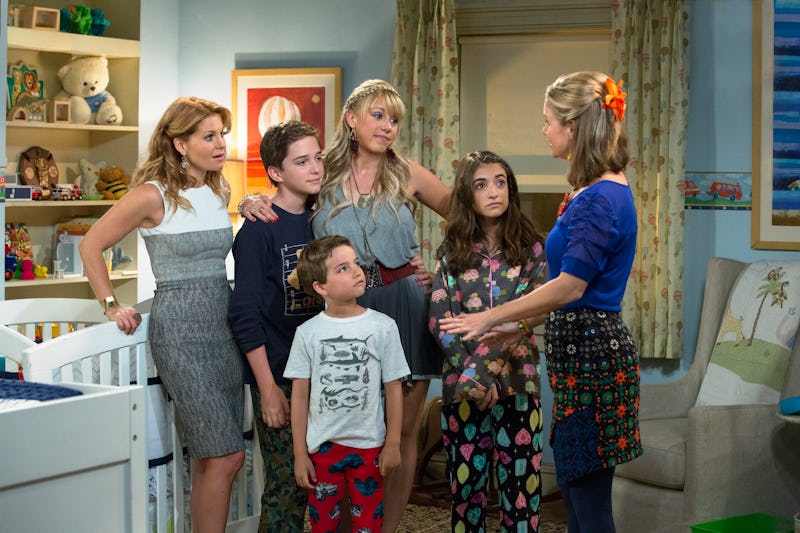 If you thought that Full House couldn't possibly celebrate '90s nostalgia more than it did in its first season, it looks like the show's Season 2 is stepping up its game and adding in all the "right stuff." According to an official tweet from the Fuller House Twitter account, a popular '90s boy band is heading to the Netflix series, and it's likely going to cause D.J., Kimmy, and Stephanie to have a serious fan girl moment: According to the report, beloved '90s boy band New Kids On The Block will head to Fuller House in Season 2. Exciting! Also, even better, this cameo will be another one of the many ways the show has honored the original Full House series, which ran from 1987 to 1995. Not only is the show throwing back to the '90s by including NKOTB, it's also playing homage to Full House in an entirely different way — by including a band from the parent's decade, just as Full House did with The Beach Boys.
Though Full House was set in the late '80s and early '90s, the band that made the biggest appearance (outside of Jesse and the Rippers, of course) was The Beach Boys. Here's how it went down on the show: Danny is super excited when he learns that The Beach Boys will make an appearance on his talk show, and gets the whole family in the Beach Boys-lovin' spirit. Unfortunately, the California band cancels on the show, thoroughly bumming everyone out. Conveniently, however, eldest daughter D.J. is able to score concert tickets via radio station contest to their show. After debating about whether she should take Jesse (diehard Beach Boys man of course) or Danny to the show, The Beach Boys show up at the Tanner residence and invite them to their concert — and, in a bizarre twist, to perform with them on stage.
So, why will New Kids On The Block show up for Season 2? Thanks to TVGuide, we already know the answer. According to the report, Kimmy and Stephanie mess up D.J.'s birthday, so they decide to try and get her favorite band to perform to make it up to her. Considering that NKOTB will show up on Season 2, my bet is that they succeed — though, likely, only after a series of mishaps.
Can't wait to see what this band has in store for Fuller House — it could become one of the show's most iconic episodes!
Image: Netflix