This Creepy Adult Coloring Book Will Haunt You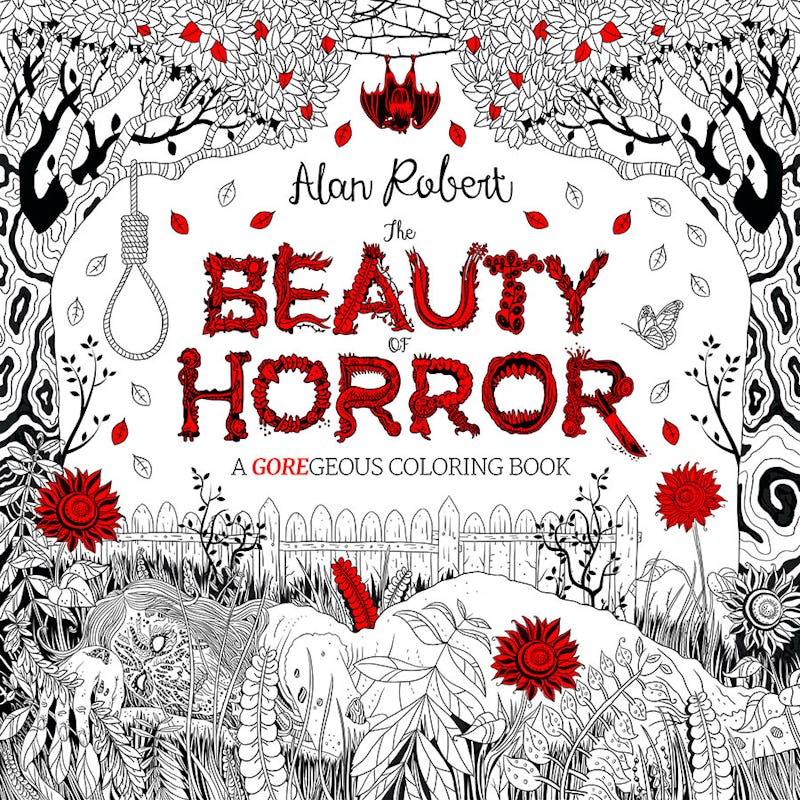 If you've looked over your arts-and-crafts supply and found it wanting, I've got a creepy adult coloring book that will round out your collection. Just in time for Halloween, IDW Comics — the publisher behind Jem and the Holograms and The Powerpuff Girls — plans to put Alan Robert's The Beauty of Horror: A GOREgeous Coloring Book on store shelves in October. With 80 pages of spooky illustrations, it's sure to give you all of the nightmares.
Robert is the co-founder and bassist of the Brooklyn hard rock band, Life of Agony. This isn't the first time he and IDW have teamed up. The publisher previously put out three of the rocker-turned-artist's comics: Crawl to Me, Killogy, and The Shunned One. A Crawl to Me film adaptation is currently in development, but a release date has not been announced at the time of this writing.
The Beauty of Horror features 80 pen-and-ink illustrations of "bizarre carnivals, the zombie apocalypse, serial killer lairs, and haunted burial grounds." Robert says he noticed an overlooked niche in the adult comic book world when he and his family got in on the trend:
The coloring book craze took hold of my wife and daughter a few months ago and I wanted to get in on the fun, but as I flipped through the endless pages of nature patterns, it dawned on me that someone left out all of the damn corpses.
Although there are plenty of gory adult coloring books out there — including offerings based on HBO's Game of Thrones and AMC's The Walking Dead — creepy color-ins featuring original artwork are few and far-between. Robert's found his niche, so let's hope he keeps carving it out, because, c'mon, you know you want more of this horror-filled goodness.
Check out Robert's trailer for The Beauty of Horror, and find more details on how and when you can get your hands on it below.
The Beauty of Horror: A GOREgeous Coloring Book is available for pre-order now. Robert's creepy adult coloring book hits store shelves on Oct. 4.