Nick's Fans Have A Lot Of 'Bachelor' Feelings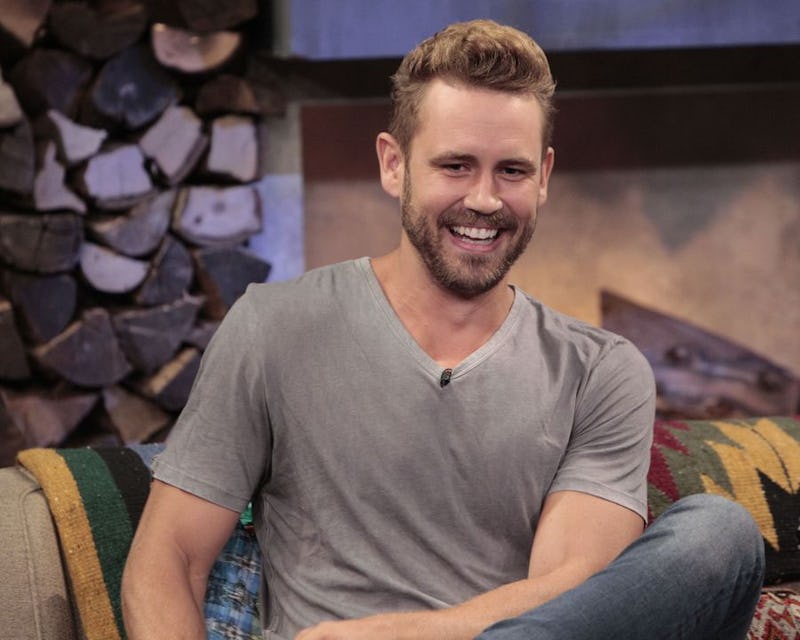 There were some crazy shenanigans in making Bachelor Nation wait for the announcement of the Bachelor (I'm looking at you, Mike Fleiss, creator of the show), but it was all worth it. Nick Viall is the new Bachelor, everyone! I legitimately screamed in my apartment and probably woke up my neighbor's kids, but it was all worth it (especially for me). I am just so excited to see Nick's third attempt at finding love. I'm not even being snarky. I mean it. Apparently, a lot of other Nick Viall and Bachelor fans had feelings, too, because Twitter exploded with memes and jokes after the Nick Viall Bachelor announcement.
The options were many in choosing the Bachelor — it could have been Chase or Luke from JoJo's season, but I think both of those guys were too boring to hold the attention of 25 women, let alone millions of people. It could have been Jared, fresh off a Bachelor In Paradise breakup with Caila. Another choice could have been Wells, but if he can't handle dating three women in Paradise, I doubt he could handle 25 at once as the star of The Bachelor. No, no — this role was meant for Nick. It was always Nick as the Bachelor, in my heart, and apparently, in the hearts of many others.
Chris Harrison Made A Joke
Guyz, papa Bachelor wants in on the fun.
The Right Reasons
I mean, abs are definitely a plus!
People Wanted To Apply
It's not too late!
Just So Excited
Same.
People Mocked Chase & Luke Fans
Lolz.
Party Pooper
I guess Nick was a let down for some.
People Were Missing The Point
Nick all day, erryday.
I don't care what Chase or Luke fans had to say — as soon as Mike Fleiss tweeted that the new Bachelor was going to be someone that people really liked, I knew it had to be Nick. He's had quite the redemption story on Bachelor In Paradise, and it's nice to see that many people felt the same way I did.
Images: Rick Rowell/ABC