14 Awesome Things To Do With Your Partner Daily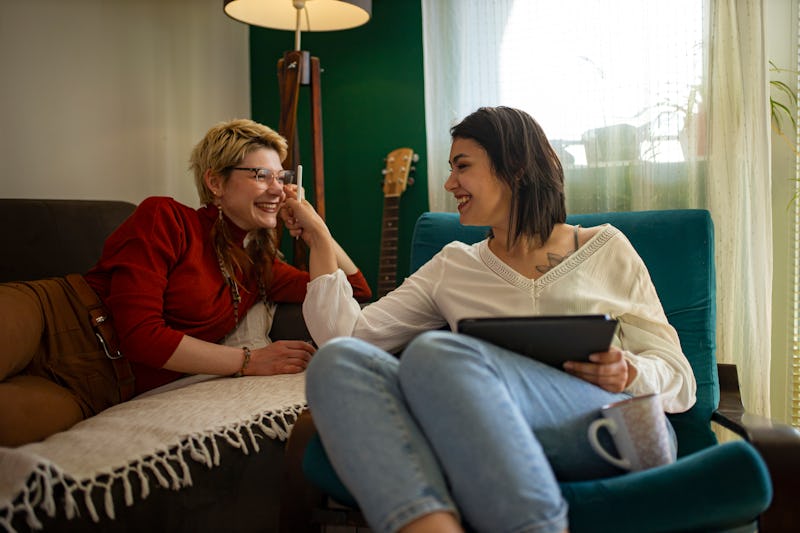 Dusan Stankovic/E+/Getty Images
At the end of a long day, all you want to do is take a long, hot shower (or bath) and hit the sheets. But what is one awesome thing you can do with your partner every day, even if you're as tired as a dog? I asked this question of 14 love and relationship experts, and they all seemed to agree that the action itself is less important than making sure that you and your partner have some sort of daily routine or ritual. No matter what it is — a long kiss, sharing of the day's experiences, discussing the things for which you are grateful — as long as you are sure that you and your partner take time every day for such things, you're guaranteed to have a better shot at happiness (and staying together long-term).
Read on to find 14 love experts' favorite awesome things to do with your partner every day, and then track your mate down — or, if they're at work right now, sit them down later tonight — and give a few of these a spin. You will be glad you did — and your partner might just be super appreciative of the gesture too!
1. See The Child In Your Partner
"Play with each other's inner children," zen psychotherapist and neuromarketing strategist Michele Paiva tells Bustle. See your partner as an innocent child version of themselves and encourage them to try that on you as well," she says, "[and] think of yourself that way too. We don't grow out of being five years old, we simply evolve into our maturity.That five-year-old you is still there." And it's worth seeking her out.
"Encourage her to be innocent and loving, playful and stress-free," Paiva says. "Encourage her to see the child in your partner."
2. Give Your Time
But if you want something you can try today, Paiva has an answer for that too. "More concretely, give the gift of time," she says. "My zen master, Thich Nhat Hanh, says that the biggest gift you can give someone is your time." Whether that means sitting with your partner while they talk about their day or showing up in some other way, don't be impatient with your partner every day.
"My husband and I have his artwork in our bedroom, a calligraphy that says, 'I am here for you' cocooned in an ensō circle," she says. "It is a reminder of our true commodity, our truth worth to each other; ourselves. I think that patient, loving time given to your partner is a beautiful and if you believe in spirituality, it probably brings our vibration up to 'bam!'"
3. Reconnect At Day's End
"Make it a point to reconnect at the end of the day," relationship counselor Crystal Bradshaw tells Bustle. "Reunite after being apart all day take time to check in with each other about how the day went. This doesn't have to happen as soon as you hit the door, but at some point after you both have transitioned from work to home, or maybe while you are in the process, share with your partner how your day went."
"Take about 10 to 15 minutes each and take turns being the listener and the speaker," Bradshaw says. "As the listener, you job is to give your undivided attention, not to interrupt, not to offer unsolicited advice or solutions, and to take your partner's side. Don't use this time to talk about the relationship or issues you may be having, this time is specifically about your partner and their day. Getting a glimpse of their life apart from you, and the things they deal with on a daily basis, helps couples feel emotionally connected, understood and supported by their partner."
And there's an added bonus: "You may gain some insight into how things outside the relationship might be impacting" your relationship," she says. Win-win.
4. Show Appreciation
"One awesome thing you can do everyday is show appreciation to your partner," Dawn Maslar, aka "the Love Biologist," tells Bustle. "A 'thank you' or an 'I love it when you ______' can go a long way in nourishing your relationship." Just open up your mouth and say thank you, as often as you can.
5. Send Midday Texts
"Midday pick me up texts" are where it's at, sex and relationship expert Megan Stubbs tells Bustle. "This simple, fast, and cute gesture takes hardly any time and can make your partner smile for hours after."
We all love getting texts — so be sure to think of your partner when you're wildly flinging off electronic messages. "A short 'thinking of you' text with a picture of them can be just the thing to get you through the midday lull," she says. "It's also great reassurance that you're thinking about them even if you are otherwise occupied."
6. Hug It Out
"It's called the two-minute hug," Marina Sbrochi, IPPY award-winning author of Stop Looking for a Husband: Find the Love of Your Life tells Bustle. "It takes two minutes and all you need to do is hug." If you do it every day, it can be transformative. Be sure to hold on "tightly and sweetly," she says. "Two minutes — you can do it!"
Shamyra Howard-Blackburn, sex and relationship therapist and owner of Conquest Counseling in Baton Rouge, Louisiana, agrees. "I recommend couples spend a few moments each day hugging." If two relationship experts suggest the same mildly off-the-beaten-path technique, you know there must be some power in it. " Hugging can help with emotional connection, and can relieve stress," she tells Bustle.
7. Send A Sweet Text
"Despite having minimal time to actually be together during a typical day, almost everyone can find the time to send a short text stating, 'I love you,' or, 'Thinking about you," dating expert Noah Van Hochman tells Bustle. "This small and seemingly insignificant note can make the responsibilities and burdens of the day seem not so great, knowing that someone special is thinking about you."
While midday pick-me-up texts are great, as Stubbs pointed out, you may want to dash off a text of your love on a daily basis. "A tiny gesture such as this can mean as much as an expensive gift to many, maybe not as good as a new sports car but definitely up there," he says. "This small, awesome gesture reminds you why you take on the burdens you endure and for a short while, lightens them." Once again: Everyone loves getting texts.
8. Share Highlights and Lowlights
"Every day, partners should share the highlights and lowlights of the day," Boston-based clinical psychologist Bobbi Wegner tells Bustle. "This helps people stay connected and communicate." Just talk it out. "Oftentimes, people don't share these experiences because they seem mundane or insignificant, but in fact they are quite important in feeling connected to each other." Just talk about that work meeting or delicious ice cream you had. "It is a healthy relationship habit," she says.
9. Write A Love Letter
""A simple, genuine, heartfelt love note with your partner's coffee, by the shower or the alarm clock, or left on the windshield of their car is not just a really nice thing to do because it makes them feel good and it makes you remember all that is good — it builds the relationship, small brick by small brick," New York–based relationship expert and author April Masini tells Bustle. High marks.
"These little compliments and heartfelt gifts of love letters — three sentences works just fine — is a great daily tradition," she adds. "Feeling future-forward? Save them in a box and read them to each other at your anniversary, over a good bottle of wine." The sweetest idea ever!
10. Notice Little Things
"Notice the little things that make a difference and remark on many aspects of your relationship: how hot they looked, what they did for you or another person, how they helped you see something in a different light, how much pleasure they brought you last night, how sweet it was to come home to a prepared meal, how fabulous they were with the kids or your parents," Carlyle Jansen, author of Sex Yourself , tells Bustle.
Whatever the thing is, be sure to tell them how much you appreciate them. "No one wants to be under-appreciated and we can't assume that the other knows in what ways we think that they enhance the relationship." Just say it, no matter what it is. It'll make a big impact.
11. Compliment Each Other
"Give each other an interesting compliment," life coach Kali Rogers tells Bustle. "This might not sound like a lot, but it can do wonders for your relationship." Instead of the same old, same old, try complimenting your partner on their unique walk or their lipstick color or their special way they make the bed. "Keeping things positive is never a bad idea," Rogers says.
12. Kiss
"Physical affection in a real manner every day — a real kiss," relationship coach and psychic medium Melinda Carver tells Bustle. "Many people do those quick hello and goodbye kisses and they are not connecting in any real way with each other." Rather than a quick peck, really kiss your partner.
"By stopping for a few minutes and really kissing your partner, you are connecting in a physical and mental way with your partner, letting them know they are special to you and that your love and affection are theirs," she says. "This strengthens your emotional bond and assists with keeping your relationship vibrant and healthy." A kiss is worth a thousand words — that's the saying, right?
13. Share
"Share one thing with each other," Darren Pierre, educator, speaker and author of The Invitation to Love: Recognizing the Gift Despite Pain, Fear, and Resistance , tells Bustle. "Perhaps it is something that happened at work, or something your partner did — effective or ineffective. Share what is going on in your life daily, so it becomes a practice, because in the continual practice of sharing of ourselves, we guarantee the mutual path of growth is taken together, rather than apart." If you're always aware of what your partner is up to, you'll have a better chance of staying close.
14. Think Of Three Nice Things Your Partner Did
"My favorite awesome thing is to tell your partner — right before you put your head down to sleep — three things that they did that day that you are grateful for and appreciate," executive editor and founder of Cupid's Pulse Lori Bizzoco tells Bustle. "According to a study from the American Psychological Association, couples are 40 percent more likely to develop hypertension if they are involved in a negative relationship, so making sure you put at least one smile on your partner's face each day by doing or saying something nice is a great way to maintain a happy relationship."
And you'll get to hear those three things back, so you'll go to sleep grinning too.
Images: Dusan Stankovic/E+/Getty Images; Giphy