You So Need Tarte's Wing Workers Eyeliner Set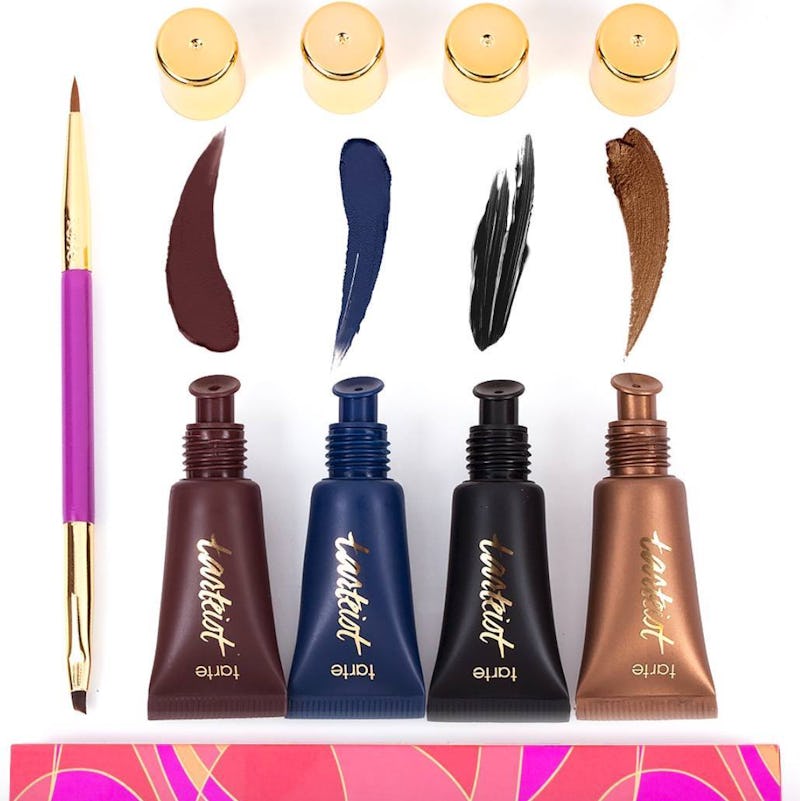 I love eyeliner innovations. If you love to "wing it" and to play with products that will let you achieve that expert, cat-eye flick, then you need to check out Tarte's Wing Workers Deluxe Tarteist Eyeliner set. The four-piece range is travel-ready. This limited edition set of liners comes in squeeze tubes and boasts super cool colors, such as basic (or essential, depending on your perspective) black, as well as three new hues, including navy blue, aubergine, and golden bronze. Here's how these liners work: Squeeze, line, and define! Where can you buy the Tarte Wing Workers eyeliner collection?
I am so glad that you asked. The quartet of squeezable cream liners is available via the official Tarte Cosmetics site. The collection costs $35, which shakes out to slightly less than $9 per tube. You get the clay paint liners and a new, dual-ended liner brush. The brush head is angled on one end and thin-tipped on the other, which will allow you to switch up the thickness, shape, and drama of your wing.
So, yes, you can expect to get that perfect, Adele-like wing with these waterproof liners, which are richly pigmented and last as long as a tattoo! OK, they don't last that long, but they come close and really don't budge. They are said to last for 12-hours.
Your eyes will be works of Tarte, er, art.
I love the gold-capped packaging, the triangle tube shape, and those colors. Squeezable, cream eyeliner is not something I encounter daily, but I am glad I did, courtesy of Tarte. The black version is a best-seller for the brand.
What a team!
The packaging is perfect for gifting, either for your liner-loving bestie or your self.
Images: Tarte Cosmetics/Instagram (1); Courtesy of Tarte Cosmetics (2)