Meet Leo, Old Friends Senior Dogs Sanctuary's Star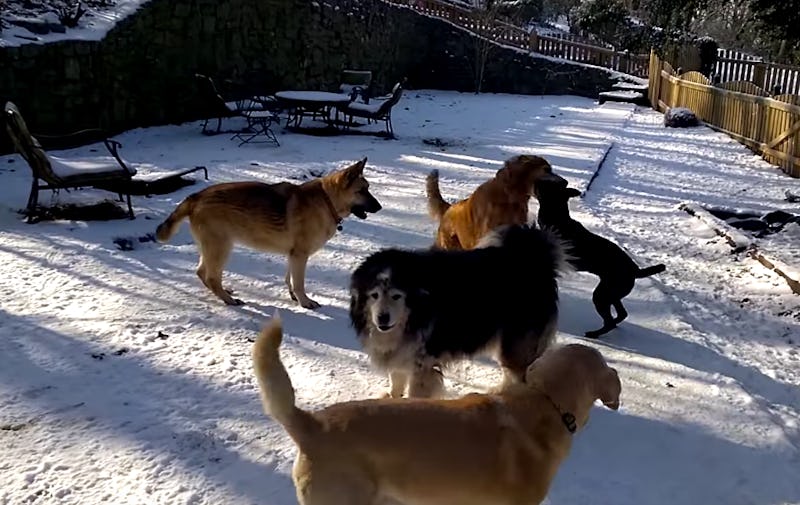 If you're not an avid Facebook or Tumblr user, you might not have heard about one of the happiest places on the internet — Old Friends Senior Dog Sanctuary. Essentially a retirement home for dogs (what a dream!), the sanctuary cares for about 200 dogs, 50 of which live at the sanctuary and have developed their own internet fan base.
Four and a half years ago, Zina Goodin and her husband Michael founded the sanctuary — which now has over 1.6 million Facebook followers — to provide care and find homes for senior dogs. "They were hanging out at the vet's offices ... or they were in temporary foster homes and being shuffled around quite a lot in what was the last few years of their lives," Goodin tells Bustle. "So we saw how much of a need there was for senior dogs to have somebody looking out for them."
Located in Mount Juliet, Tennessee, the sanctuary started with a group of dogs known as the "Originals" — Ginger, Gracie, Toby, Belly, and Leo of course! Every dog has his or her own special story, but there are a few that stand out. A Chow, Siberian husky mix (with a few other breeds tossed in), Leo can be found playing in the kiddie pool, barking at thunderstorms, playing with Leona and Lacy, and leaving pawprints in the snow.
It took a little adjusting for Leo to get used to the sanctuary at its start, but he is happy to call the sanctuary his "forever home" now. Goodin is happy they got the call to pick him up. "We went out to see him and he was just laying on the road, all bummed out, and his hair was matted ... so we drove up in the car and he hopped right in," Goodin says. "He knew he was going home, I guess. We took him in at that time, and we got him vetted and got him his first 'Leo cut.' That was the start of Leo."
Leo's annual haircut has become a hot topic on the Facebook page (the comments section is incredible), dividing followers who aren't sure how to feel when the old friend sheds his winter coat. "Before I post a picture of his summer cut, I have to brace myself for all the comments that are going to come up," Goodin says. "Some people love it. Some people hate it."
Even though Leo is considered to be the rockstar of the group, every dog at OFSDS brings a little bit of happiness to the sanctuary. Toby is part of the 'welcoming committee,' greeting all the sanctuary's new friends with energy and excitement. Mildred also adds an extra bright spot with her campaign for President (Mildred the Pug, 2016!).
Dogs like Leo, who have been through rough times and need a second chance are, unfortunately, fairly common and often spend the rest of their lives in shelters. Goodin says people looking to adopt worry about getting attached and then losing the dog soon after, or having to cover its medical bills. OFSDS provides preventatives, medications, and covers medical bills for all the dogs — even after they are adopted and taken to their 'forever homes' — making it that much easier for people to give them a loving home.
"We know things haven't always been easy for them, but they're able to leave their past in the past and appreciate their new lives," Goodin says.
Before the end of the year, the sanctuary plans to relocate to a more spacious, public location so they can take in more dogs. "One of the things that's been important to us is building a sustainable rescue. Michael and I are not going to be here forever, and we're trying to build something that other people can carry on with after we're gone," she says.
Goodin, who is the primary person in charge of taking photos and running the Facebook page, says she's humbled by the internet's enthusiastic reaction. "I went on [Tumblr] and people have drawn pictures of all of the guys and have zodiac signs of them," she says. "I think it's just wonderful that our gang here has gotten so much attention in the world. It's amazing."
Goodin says she's glad to spread the word about the sanctuary because senior pets are the ones who really need help. "We want to show that senior dogs can be happy dogs and senior dogs are fun and great companions. It's important for us to show everybody what fun it is to live with them ... and not to create a sadness out of it, but happiness."
If Leo's story is anything to go by, OFSDS truly is one of the happiest places on earth.
Images: OFSDS/Facebook