30 Random But Clever Germ-Busting Products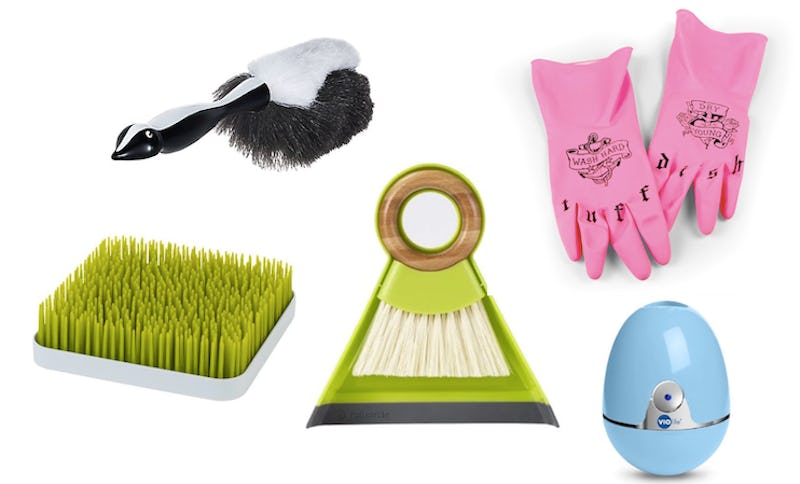 Cleaning was never awesome when I was a kid, but now that I'm an adult — oh, wait. It's still not awesome. Regardless, your one day off (also known as chore day) is going to roll around whether you like it or not, so you might as well use products that make cleaning way more fun. Thankfully, the internet is a powerhouse for random niche cleaning products that actually work, and most of them are particularly clever and great at making you feel like a child again.
Despite what you've been told by sources that aren't Barney & Friends, combining playtime and chore time into one happy experience is still entirely possible, even as a grown up. Yeah, it's not as great as spending your Saturday binge-watching Stranger Things and surfing Reddit with a bowl of ice cream resting on your chest, but if anything's a close second, it's sanitizing your toilet with a Cat toilet brush. Don't agree with me? You've clearly never tried it before. If getting rid of gross germs in your house is a complete drag, try these weird but amusing cleaning products that might make you scratch your head, but at least you're not scratching your favorite decanter.
1. These Edgy Dishwashing Gloves
Fred & Friends TUFF DISH Tattooed Dish Gloves , $9, Amazon
Make your dishwashing game a little more edgy with these Fred & Friends TUFF DISH tattooed dish gloves. They're unique, tons of fun, and stop all the gross food and germs from getting on your hands.
2. Salt Lake City Dish Brus
Boston Warehouse Sud Green Dish Brush , $10, Amazon
This Boston Warehouse 'Sud Green' dish brush has a unique arch to get hard-to-reach places, a comfortable grip handle, an entirely dishwasher-safe build, and a badass punk look.
3. This Sanitizing Wad Of Goo
Cyber Clean Home and Office , $8, Amazon
This Cyber Clean Home and Office (basically goo in a jar) is actually a fun way to sanitize your computer and other hard-to-reach places. Just press it between your laptops keys or other tricky spots and eliminate 99 percent of germs.
4. Clean Your Screens And Windows With Adorableness
Microfiber Cleaning Mitten , $7, Amazon
Cute and convenient, the microfiber cleaning mitten works on everything from cars to phone screens, and you can wear it on your hand for ultimate control.
5. Who Said Cats Don't Like Water?
Cat Toilet Brush , $18, Amazon
You can't really claim to be a cat person without this Cat Toilet Brush, which looks adorable in the corner of your bathroom and makes the worst chore just a little bit better.
6. Clean Up Impromptu Messes With This Convenient Brush
Full Circle Tiny Team Mini Brush And Dustpan , $6, Amazon
For everything from tabletop crumbs to dog food, this mini brush and dustpan is made from earth-friendly materials like bamboo, and it's super convenient when you're in a hurry.
7. Vroom Your Way To A Cleaner Work Desk
Portable Ladybug Vacuum , $11, Amazon
Messy desk after lunch? The portable ladybug vacuum runs on batteries and sucks up everything in a snap.
8. Make Your House Smell Fresher By Doing Nothing
Natural Bamboo Charcoal Deodorizer Bag , $19, Amazon
This natural bamboo charcoal deodorizer bag purifies the air, soaks up allergens, and absorbs smells for a fresh feeling all around your home.
9. Dry Your Dishes With The Great Outdoors (Plastic Version)
Boon Grass Countertop Drying Rack, $14, Amazon
This Boon Grass countertop drying rack is convenient and cool-looking, and because the water all collects in the bottom of the tray, your dishes actually dry instead of getting mildewy.
10. Tackle Food Stains Without Destroying Your Hands
Scouring Pads with Handle , $4, Amazon
Scouring pads are the best, but I hate the way they feel underneath my fingernails. This scouring pad with a handle is really durable, really effective, and saves your hands and knuckles while you're tackling stubborn food stains.
11. This Skunk Soaks Up Dust Like Nobody's Business
Boston Warehouse Skunk Duster , $10, Amazon
With its clever and whimsical design, the Boston Warehouse skunk duster has an electrostatic tail that dust actually sticks to, so cleaning becomes a breeze.
12. Hide Your Dishwashing Supplies Under The Guise Of Nature
Vigar Flower Power Sink Side Set , $10, Amazon
If your counter is cluttered up with cleaning supplies, this adorable Vigar Flower Power sink side set looks like a decoration, but it's actually a durable dish brush and a reliable sponge.
13. Trap Odor-Causing Bacteria Under The Surface
Poo-Pourri Before-You-Go Toilet Spray , $15, Amazon
Using essential oils and natural ingredients, Poo-Pourri Before-You-Go toilet spray keeps your bathroom smelling fresh by trapping odors under the surface of the water after you go.
14. Seriously Cut Down On Dishwashing Time
Scrub Gator Utensil and Dish Scrubber , $7, Amazon
Make dishwashing fun and efficient with this Scrub Gator utensil and dish scrubber, which is double-sided, clamps around utensils, and fits easily in your hand.
15. Stop Pets From Tracking Mud Through The House
Paw Plunger for Dogs , $22, Amazon
Stop the mess before it even crawls through the doggie door with this Paw Plunger for dogs. It's got pet-safe bristles inside that clear away all the mud and dirt after a walk.
16. Finally – Clean Inside Bottles And Decanters
Cuisipro Magnetic Spot Scrubber , $9, Amazon
For those hard-to-reach spots inside your glasses and decanters, there's this Cuisipro magnetic spot scrubber, which easily rubs away marks and dried-on stains.
17. Sanitize Your Entire Microwave
Topist Angry Mama Microwave Oven Cleaner , $12, Amazon
Add vinegar and water to this Topist Angry Mama microwave oven cleaner, and watch the steam disintegrate the crud and sanitize all the germs.
18. Zap Away The Germs On Your Toothbrush
Violife UV Toothbrush Sanitizer , $31, Amazon
Give your toothbrush a nightly sterilizing session with this Violife UV toothbrush sanitizer, which zaps away all the germs every time you put it back.
19. Stop Wiping Chicken Germs All Over Your Soap Dispenser
Motion Activated Soap Dispenser , $24, Amazon
Great for use in the kitchen, this motion activated soap dispenser ensures that you don't transfer germs from that chicken onto the very thing that you use to clean your hands.
20. Make Dish Time Fun Again With Pizza
Handmade Crochet Pepperoni Pizza Washcloths , $20, Amazon
These adorable handmade crochet pepperoni pizza washcloths are great for washing dishes, and the pepperoni function as little scrubbies.
21. Dust While You Bum Around Your House
Floor Cleaning Dust Mop Slippers , $8, Amazon
Slip on these floor cleaning dust mop slippers and dust the floor as you walk. They're comfortable, durable, and practical.
22. Clean Your Guitar Without Scratches
Fast Axe Multipurpose Guitar Cleaning Brush , $8, Amazon
This fast axe multipurpose guitar-cleaning brush is a great way to dust and clean any guitar — electric or acoustic — without scratches or damage.
23. Give Your Best Buddy A Spa Day
Dog Fashion Spa Bug Repellent Lavender Wash Sponge , $28, Amazon
Treat your dog to a spa day with this bug repellent lavender wash sponge, which uses natural lavender to calm, clean, and de-bug your dog.
24. Any Techie's Dream Device
Buzzbrush Keyboard Brush , $7, Amazon
The Buzzbrush keyboard brush is a two-in-one dream for any techie — the brush fits inside your keyboard and other hard-to-reach places, and the cover is a microfiber cloth for screens.
25. Get All Those Germs Off Your Makeup Brushes
BMC Heart Makeup Brush Cleaners , $15, Amazon
Makeup brushes are loaded with germs, but these BMC heart makeup brush cleaners help you remove build-up and skin with textured and hygienic silicone.
26. Get Your Dishes Up To Royal Standard
Queen Elizabeth Dish Sponge , $18, Amazon
British? Desperate to show your support? Prop this Queen Elizabeth dish sponge next to your sink, which allows you to fill the queen's torso with soap and use her squishy hair to clean your dishes.
27. Never Have To Choose Between Your Soap Types
2 in 1 Ceramic Soap Dish And Dispenser, $11, Amazon
Don't want to choose between liquid or bar soap? This adorable 2-in-1 ceramic soap dish and dispenser is easy to clean, can be filled with soap or lotion, and holds your favorite sponge or bar.
28. Prevent The Need For Snaking
Umbra Starfish Drain Cover, $7, Amazon
Snaking a drain is hands down one of the most disgusting chores there is. Prevent the need with this Umbra starfish drain cover, which has a flexible silicon construction and suction cup design to stop hair before it gets stuck in your pipes.
29. This Puffy And Stain-Resistant Spoon Rest
Fred & Friends REST UP Pillow-Shaped Spoon Rest, $8, Amazon
Put all those sauce stains on your stove to bed with this Fred & Friends REST UP pillow-shaped spoon rest, which is as original as it is functional.
30. These Multicolored Sponges For All Your Kitchen Needs
Silicone Multipurpose Cleaning Sponges, $9, Amazon
Cover all your bases with these silicone multipurpose cleaning sponges. Not only are they more durable and hygienic than your typical sponge, but they can be used to wash dishes, scrub vegetables, and even carry your hottest dishes.
Images: Amazon (30)
Bustle may receive a portion of sales from products purchased from this article, which was created independently from Bustle's editorial and sales departments.