Tarte's Wing Workers Liner Set Is The Perfect Gift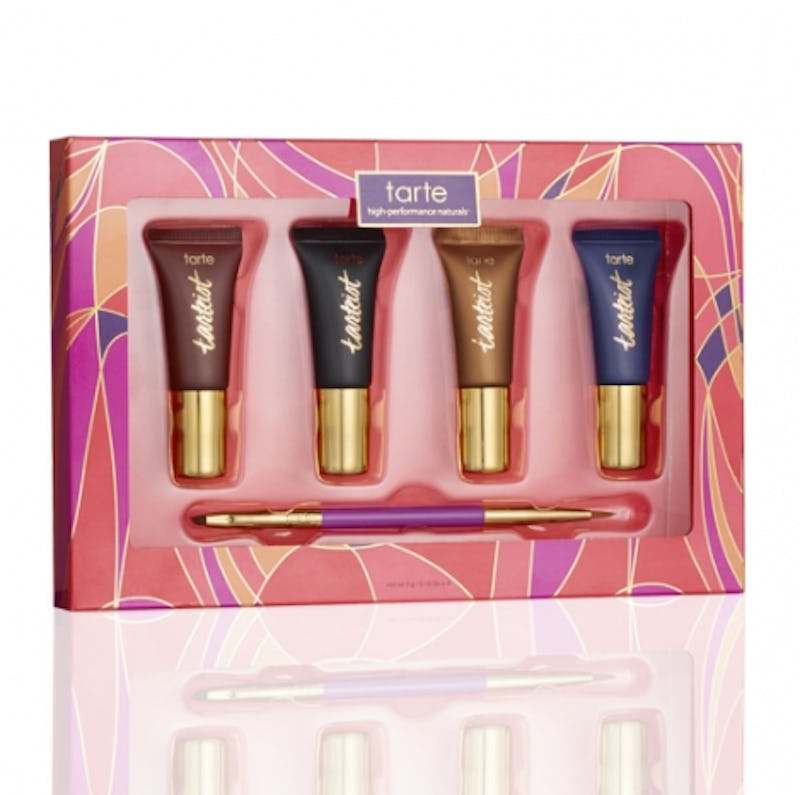 Let's be honest. Hanging lights and sipping hot cocoa is great and all, but the best part of the holiday season is shopping for makeup. You need Tarte Cosmetics on your radar because they've got some of the best beauty deals around. How much is Tarte's Wing Workers Deluxe Eyeliner Set? It's sure to make the perfect stocking stuffer!
The set contains four mini-versions of the brand's easy-glide clay paint liners and a double-sided brush for flawless application. This bundle is available to shop on the Tarte Cosmetics website. It's also available at Ulta and Macy's. And get this, it's only $35. That sure sounds like a deal to me! It's a limited edition product, so you better grab this kit while you can. You're sure to be the best Santa around if you shop this gift for your friends and, of course, for yourself!
The liners come in four different shades. There's a deep wine-colored Aubergine, a shiny Bronze as well as Black, Brown and Navy shades. Whether you're looking to be bold with your liner or just rock a classic color, this kit's got everything you could need. Go on and get to shopping because you can never start racking up on presents too early!
How could you pass up the chance to have incredible shades like these at your disposal?
According to the Tarte Cosmetics website, the black shade is a best-seller and the other three are limited edition. Needless to say, you've got to get your hands on these.
With the double-sided brush, you're sure to get the perfect application. Whether you're going for a straight line or a winged look, this brush will deliver each and every time.
The fact that this set contains new shades makes it even more covetable.
Treat yourself to the best liners of the season. You deserve it!
Wing Workers Deluxe Tarteist Eyeliner Set, $35, Tarte Cosmetics
You'll be so happy when you unwrap this baby. And it's all about spreading cheer this time of year, after all, right? Precisely!
Images: Courtesy Tarte Cosmetics (3)