15 Items For People Who Get Burned Out At Work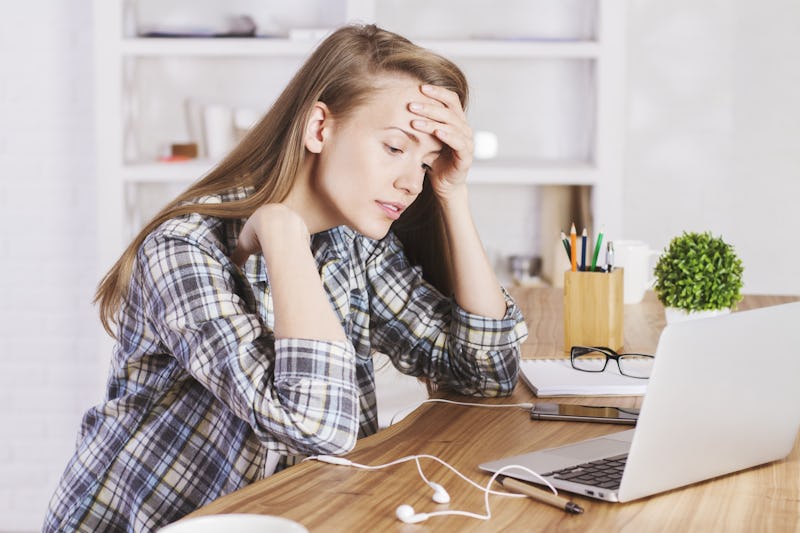 I'm relatively good at fending off stress, but once it finally hits, I'm pretty much rendered useless until I can get my head on straight again. Sure, a weekend getaway or an after-work massage can help, but dealing with burnout from work can be easier things that make your cubicle suck less are arguably a better investment. The mental escape method only works for so long, and we all have to come back to our offices sooner or later. Whether you yourself are suffering from workplace burnout and job stress, or you're shopping for gifts for people who are so done with work (because your best friend is three seconds from rage-quitting), you've come to the right place.
While your desk might just seem like a flat slab of wood that holds your laptop, in actuality, it's so much more than that. For one thing, it also holds your liquefied motivation apparatus (aka coffee cup), and for another, it's been scientifically proven that your work habits and production levels are really heavily impacted by your environment. If you're constantly in a state of brain fog and stress, take a look at your work space. Instead of working amongst those energy bar wrappers and paper graveyards, consider spending every day at an organized desk with tools that promote creativity and productivity.
1. Train Yourself To Take Breaks
The Miracle Cube Timer, $15, Amazon
Some methods of productivity, like the Pomodoro Technique, suggest that the brain works better when bursts of work are broken up by short breaks. If you're particularly stressed at work, break up your work time with this The Miracle Cube timer. It lets you choose between five, 15, 30, and 60 minutes, simply by putting that number face up, so you can rest your brain and get the most out of your work time.
2. Bring Aromatherapy With You To Work
Aromatherapy USB Essential Oil Diffuser, $16, Amazon
Bring the relaxing benefits of aromatherapy right to your work desk with this USB essential oil diffuser. It's both a cool mist humidifier and diffuser that's totally portable, and it plugs right into your computer for a zen experience in the office.
3. Take A Cat Nap At Your Desk
Mini Power Nap Pillow, $16, Amazon
For when you hit that wall right after lunch, there's this mini power nap pillow, which slips under your arm to give you a comfortable, neck friendly bed right at your desk. The outside is made from breathable jersey, while the inside has micro-beads that help cushion your whole face.
4. Focus On Another (Unrelated) Project
Cubicle Queen, Stay The F*ck Out: An Office Attitude And Swearword Coloring Book , $6, Amazon
Shifting your focus to another project while working has been shown to boost attention and problem-solving abilities, and this office themed coloring book is a great way to give your brain a much-needed break. It gives you 20 illustrations to release your frustrations upon, and one reviewer said it best: "Finally, a constructive stress-busting outlet for frazzled office drones? It's about time."
5. Organize Your Work Space To Improve Focus
Bamboo Office Desk Storage Organizer, $35, Amazon
It's been scientifically proven that a cluttered space limits your productivity levels and ability to focus. Neaten things up with this luxurious and practical bamboo office desk storage organizer, which has a stand for all your devices, slots for your knickknacks, a cup holder, and air channels to cool your laptop.
6. Block Out The World With Music Or Nature Sounds
Excelvan Wireless Foldable Headphones, $17, Amazon
Blocking out the world can be a wonderful thing. These Excelvan wireless foldable headphones sync up to your phone or device using Bluetooth, have a crystal-clear sound, have an LED light flashing setting for some extra fun, and fold up for the commute.
7. Spend Ten Minutes A Day Cultivating Mindfulness
Little Book of Mindfulness, $8, Amazon
In my opinion, every aspect of life can be improved with a little mindfulness. This Little Book of Mindfulness is ideal for the busiest of people because all it requires is ten minutes a day, and you're on your way to less stress and more peace.
8. Customize Your Daily To-Do List
Notepaper Roller, $28, Uncommon Goods
I'd be nowhere without my daily to-do list, and I find that I'm way more productive when I physically write things out rather than using my phone app. This notepaper roller sits on your desk and dispenses a clean sheet of paper every time you need it, but unlike sticky notes, you can make the memo as big or as small as you'd like.
9. Channel Your Focus And Motivation For The Day
Productivity Planner, $25, Amazon
This productivity planner helps you channel your focus and motivation into the most important daily goes, so you can center your mind and work more productively. Reviewers are saying things like, "It's been a game changer for me. It's easy to use and simple in form, so I actually keep up with using it each day! And now almost my whole team has one!"
10. Relax Your Muscles At Your Desk Or In The Car
Adjustable Vibration Seat Massager, $30, Amazon
Ease some stress and tension with this adjustable vibration seat massager, which supports your lumbar and massages your whole lower back. It has four massage modes and two vibrational patterns, and because it's got a wall and car adaptor, you can use it at your desk or during your commute.
11. This Book That Tailors To Women In The Workforce
New Rules of the Game, $11, Amazon
Written by business leader Susan Packard, New Rules of the Game is a straightforward and honest book that shows women how to easily make the most out of their careers, no matter what path you've chosen. It uses techniques like gamesmanship (often seen in the video game and sports worlds) to implement powerful and efficient strategies into your work life.
12. This Desktop Reminder That Rome Wasn't Built In A Day
A little nature can go a long way as far as improving your mood. This Crepe Myrtle Bonsai specimen tree kit comes with everything you need to grow your very own, like seeds, a growing medium, bonsai pruners, detailed directions, and a recycled US steel grow box. Not only will it look awesome on your desk, but it's a constant reminder that not everything happens overnight.
13. Support Your Wrist While You're At The Computer
LKHE Wrist Pad, $8, Amazon
If you're at your computer all day long and your body is beginning to fight back, this LKHE wrist pad really helps ease the tension. It's made from cooling and hygienic silicon that you can move from your mouse to your keyboard depending on the project, and people love that it stays put and offers tons of support.
14. Unleash Your Creativity At Work
Fenta Round Magnet Toy, $13, Amazon
Whenever I'm brainstorming, I need something to fiddle with. My dad got everyone in my family this round magnet toy for Christmas last year, and it's an awesome way to relieve stress. The tiny magnetic balls stick to each other and move in any direction, so you can build anything you want while clearing your mind.
15. Mark Your Notes Or Label Your Space
Paper Tape Set, $12, Nordstrom
Whether you're marking your notes or organizing your workspace, this adorable paper tape set is sure to liven up your day. It includes three decorative rolls — Herbie the happy heart, floral, and "I am very busy" — all of which stick well and look great. Plus, some studies suggest that clutter and disorganization lead to fatigue and stress. Get organized with a fun method like this, and see how low your stress levels go.
Images: Fotolia (1); Amazon (12); Nordstrom (1); Uncommon Goods (2)
Bustle may receive a portion of sales from products purchased from this article, which was created independently from Bustle's editorial and sales departments.