I Did A Whole Face Of Makeup Using Just Eyeshadow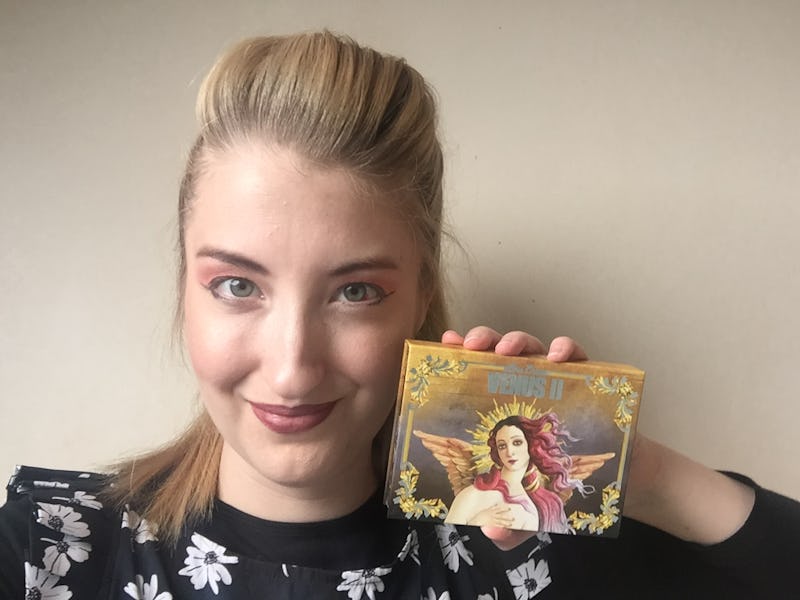 Call me a victim of my own curiosity, a masochist, or just an amazing beauty journalist: I did an entire face of makeup using just eyeshadow in the name of discovery. One might think I learned my lesson multiple times over from the array of similar beauty experiments I've undertaken, such as the #100coats of nail polish challenge. However, my thirst for weird beauty projects is actually unquenchable.
I hit up YouTube for some inspiration on how to go about the eyeshadow challenge and stumbled across YouTuber Rachel Leary's version. In this video, she goes all out using bright colors to create a very unique finished look. However, in my interpretation of this challenge, I wanted to find out if it's possible to do all of your makeup using eyeshadow only and finish up with something a bit more mainstream.
Before I started this journey, I wondered if makeup-wearing folks actually need all of the different products they wear on a daily basis, or if all of these "must-have" items could be replaced with one product and one product alone. I believed that if I could look like I was wearing a "normal" face of makeup, when I was actually plastered in eyeshadow, I'd basically be winning at life. Here's what happened.
The Tools
I began by picking out my weapons of choice. As a vegan — with a makeup bag that's gradually transitioning to become 100 percent cruelty-free — I decided to use my Lime Crime Venus Palettes because Lime Crime are an entirely vegan and cruelty-free makeup brand.
I decided to utilize all of the different makeup brushes I own, in order to apply the eyeshadows in different ways; I thought this would probably be key to my success.
As you can see, my makeup brush collection is pretty limited, so I also used damp cotton swabs for the nitty gritty areas. As a bonus, I also thought this would help add depth and pigmentation with the swabs being damp.
1. The Base
Being very pale, I opted for this light shade called "Aura." I then proceeded to brush it all over my face, with the brush pictured, plus I swooped some under my eyes with my fingers.
It didn't quite give me the coverage I usually have, but I enjoyed how sparkly it made my face look.
2. The Brows
I normally use a bit of brown eyeliner on my eyebrows, but I'd heard that folks sometimes use eyeshadow, so I wasn't too worried about this one.
But, after applying this shade, I thought I may have gone a little too dark. I mentally told myself I'd look better soon with the rest of my eyeshadow on.
3. The Blush
I used "Rebirth" from the palette for my cheekbones, as I thought it quite a fitting shade of pink for the cheeks.
The only problem was it stuck fast as soon as I applied it and it went under my cheekbone a bit, causing me to look like I was eternally flushed. I tried to lessen its strength by wiping it with my hands, but it didn't seem to work, so I left it alone.
4. The Highlight
I thought I was taking a bit of a risk using the green-gold hue "Fly."
But IMO, it looked really awesome and reminded me of super pigmented, trendy rainbow highlighters.
5. The Eyes
This was the easy bit, so I opted to use (almost) the entire top line of this palette and blended to my heart's content, to create a subdued, rose smoky eye.
Next, it was time for the liner.
I wet my cotton swab and used the pointed end with a layer of the glittery "Boot."
I couldn't believe how easy it was to create winged eyeliner with this method, although doing the eyelid was a little tricky.
6. The Mascara
Here's where I thought it would all fall apart. I wet the chubby end of my cotton swab, rolled it in "Boot," and used it like a mascara wand. And you know what? It worked! Of course it wasn't amazing, but what can you expect from a soggy swab and some eyeshadow?
7. The Lipliner
I ran this thin brush under the tap and used "Muse" to create a lipliner of sorts.
As you can see, I didn't have much control using this method, but it still got the job done.
8. The Lipstick
I rinsed the same brush and dabbed it onto "Venus," then applied it all over my lips.
I used a lighter shade to highlight the centre of my lips.
The Finished Result
Although I looked like I'd stepped out of the '90s, I was pleasantly surprised with my finished look. I'd surpassed my own expectations and that, in my book, means I smashed the challenge. I probably won't be doing this every day, but it could definitely work in a pinch.
Images: Phoebe Waller