The Midwives Are Back On 'The Mindy Project'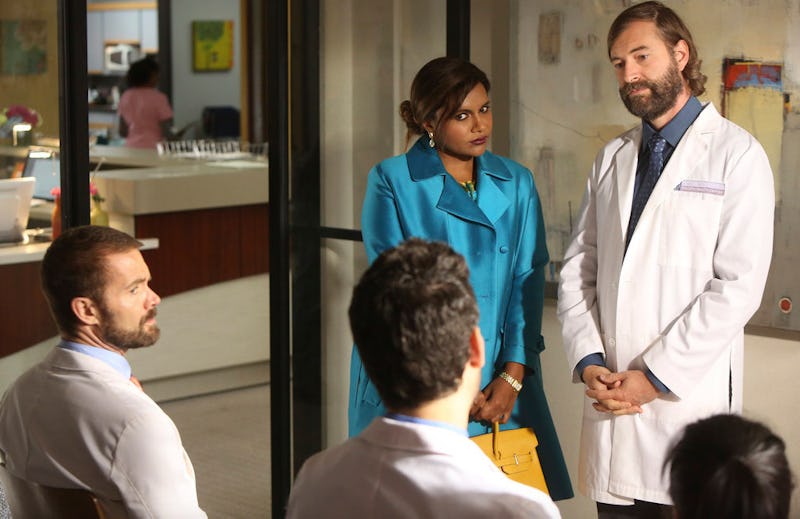 Is there already another love triangle brewing on The Mindy Project, now that Danny and Jody are out of the picture? While a hot nurse caught Mindy's eye and another one of her exes came into the picture, I'm not certain just yet. I'm more interested in the fact that the midwives are back on The Mindy Project , and that Mindy is now working for them.
Mindy took the gig to help buy back the addition to her apartment that Jody gifted her as a romantic gesture. After she rejected him, he intended on selling the apartment. That whole situation is a little gross to me, but I'm glad that Mindy is no longer in Jody's debt — especially since it's an excuse to revisit the midwives. Not only are Duncan and Brenden, played by the real life Duplass brothers, hilarious on the show, but this brings the focus of The Mindy Project back to the workplace for a minute. Sure, Bryan Greenberg's character Ben might return, and Mindy and Brenden have always had chemistry, but it's nice to see Mindy in storylines that utilize her other coworkers as well. Even Ben, as a nurse, is a nice gender subversion of the boss/secretary or doctor/nurse trope in fiction.
Plus, between Mindy's practice, her fertility clinic, and her new role upstairs with the midwives, she's going to be stretched thin — which should make for some fun conflict in future episodes. Not to mention the fact that Jody is on the warpath, which could jeopardize the clinic as well. All in all, I'm glad that The Mindy Project is exploring new corners of the OB/GYN world again. I enjoyed the Later Baby subplot from last season, and bringing in those hippie midwives is going to be a lot of fun.
Image: Jordin Althaus/Universal Television