The Lancome x Sonia Rykiel Collection Is Lit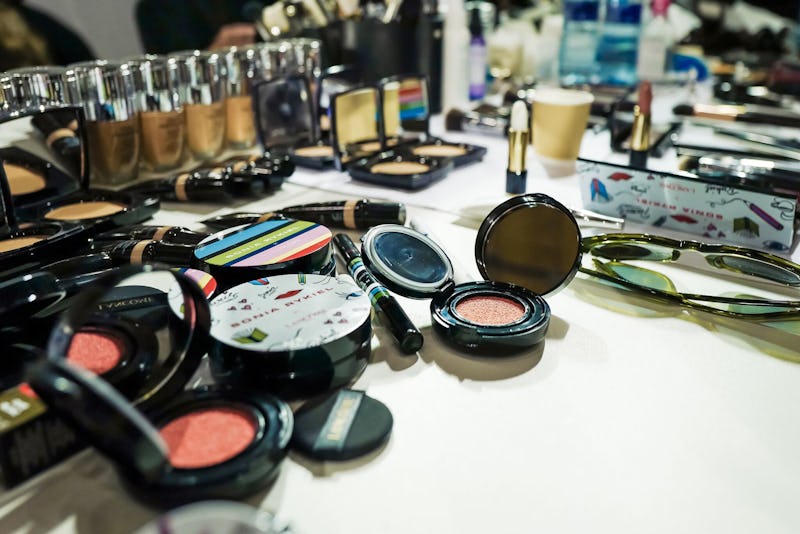 There's something about all things French that I cannot get enough of, and this makeup collection doesn't help my obsession. The world of fashion has paid one tribute after the other to the wonderful late Sonia Rykiel and now beauty is following closely behind. Lancome has released its limited-edition Lancome x Sonia Rykiel Fall 2016 Makeup Collection, and it's as lovely an ode as every other.
The two French brands have come together to create makeup that embodies the elegant and effervescent French woman to share with the world and makeup lovers alike. Much like Sonia Rykiel's clothes, this collection is inspired by 1960s bold prints and graphics. Even the packaging has bright, colorful striping.
Just as the renowned designer created the essence of French-girl cool, you can now achieve that je-ne-sais-quoi that Lancome's Global Makeup Creative Director, Lisa Eldridge, created and used on the models in Sonia Rykiel's SS17 Paris Fashion Week show. Want to know how it was done? Lancome has even shared a step-by-step tutorial for that.
So what exactly is in this playful, whimsical collection? The Lancome x Sonia Rykiel Fall 2016 Collection has everything you could need for that perfect, effortless look, from the Maxi Palette ($60) to the Cushion Blush ($39).
Two eyeshadow palettes, two blushes, four different lip colors, and four nail polishes. What more could you ask for?
Lancome x Sonia Rykiel Maxi Palette, $60
Lancome x Sonia Rykiel Parisian Lip Crayon, $29
Lancome x Sonia Rykiel Cushion Blush Subtil, $39
Lancome x Sonia Rykiel Vernis In Love, $15.50
Cute, adorable, and playful while remaining elegant. This is the perfect collection to add a little color to your daily look.
Images: Lancome