Miley Made A Misstep On 'The Voice'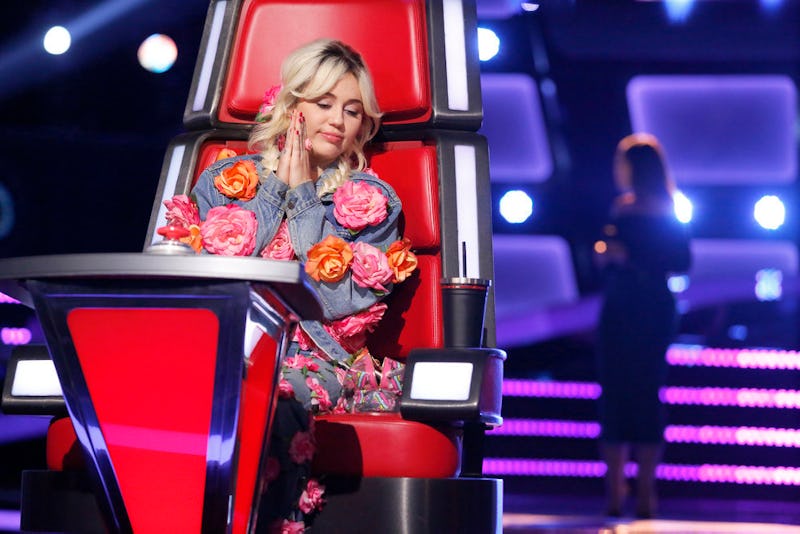 The battle rounds on The Voice are hard to watch. We know how talented everyone is, because we saw the contestants duke it out in the blind auditions, and now they have to compete against each other? I mean, damn, The Voice. Talk about tough. Song choice is key, though, to making great singers stand out from really great singers, and, unfortunately, Miley Cyrus did Lane Sinclair and Sophia Urista wrong on their The Voice battle round. How? She picked a song that was not exactly right for her duo.
The song was "Money" by Pink Floyd (according to Cyrus, it's the first time that a Pink Floyd has ever been used on The Voice). Lane and Sophia have a distinct rock-and-roll edge to their singing, so I don't necessarily think that it was the Pink Floyd that was a bad choice. "Money" is just not a song where I think that Lane and Sophia could show their vocals off in a distinct way — the lines are short, the notes are hard to hit, etc. I think even Joan Jett, the guest advisor for the pair, didn't really know how to attack it in rehearsals. She advised that Lane and Sophia shouldn't give it all away at the beginning of the song, but "Money" is the same level the whole time, you know? There's no crescendo like there is in other songs, and in a battle round, you need something to build to.
During the actual performance, it was just so hard to choose who was better, and I think that's because "Money" doesn't really show what Lane and Sophia can do vocally! A tearful Cyrus eventually sent Lane home, but I think these two deserve a Voice battle-round do-over with a song that lives up to their potential.
Images: Trae Patton/NBC