Ali Larter Loves 'Pitch's "Empowering" Message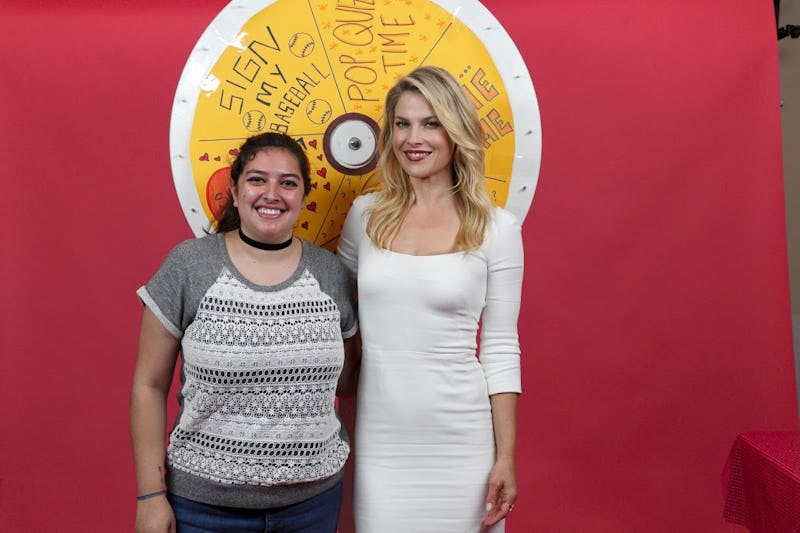 As her past roles on Legends and Heroes prove, Ali Larter is an expert at bringing the drama to TV. Now, she's bringing all of that experience to Pitch, where Larter plays Amelia Slater, the agent of Ginny Baker, the first female MLB pitcher. In a video interview with Bustle, Larter explains how she was excited about the new FOX series, its complex characters, and its strong message — when she isn't spinning a wheel that gives her some unique instructions, that is.
"It's really exciting to be a part of a show that people are really responding to," she says of Pitch, which airs Thursdays at 9 p.m. on FOX. "It's really empowering, feel-good. It's also, you know, about the flaws that different characters have." She's definitely right about that, as she plays a multi-faceted character whose strengths and weaknesses have already been seen in the four episodes that have aired so far. But that performance isn't the only thing Larter has to be proud of. She's also partnered with Lysol and the Boys and Girls Club of America to encourage elementary school students to get involved with science. As she describes in the video below, she even visited a fourth grade science fair as part of the campaign.
Thanks to that wheel of questions, Larter also speaks a bit about her personal life, sharing the story of how her husband, Hayes MacArthur, proposed to her and how she knew she'd marry him. For all of her success, it seems that the actor is kept grounded by her daily life with her family, which includes her 5-year-old son and 1-year-old daughter.
In addition to her own children, Larter is clearly impacting other kids through her work with the Boys and Girls Club of America, and with Pitch, is part of a TV series that inspires girls everywhere.
Image: Bustle