'Noah's Russell Crowe, Emma Watson, and More: Our Guide to the Confusing Epic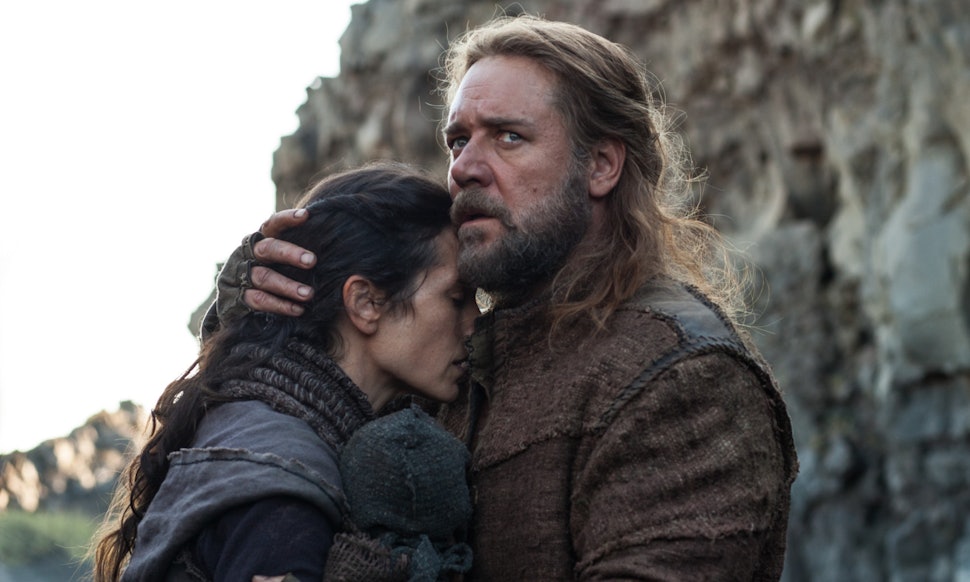 The term "high expectations" gets thrown around pretty often, but there are a few times when it's the only fitting phrase. And such is the case for Noah , Darren Aronofsky's $130 million biblical epic. Anticipation for the film, to be released on March 28, has been building for years, but in the last few weeks, it's only gotten greater. Early reviews have been mixed, and with a budget so big, it'll be an ark-sized disaster if Noah isn't a blockbuster.
Bad reviews or not, at least one aspect of the film can't be criticized: the talent of its cast. From Russell Crowe to Emma Watson, Noah's ensemble is an A-list group of actors, all who are sure to give impressive performances. Yet for all the cast's acclaim acclaim, little seems to be known about who each person actually plays. Sure, Crowe plays the Noah of Noah, but what about Watson, Logan Lerman, Anthony Hopkins or any of the others? Let's take a look.
Image: Paramount
Russell Crowe
Crowe plays Noah, you know, the dude who sees a vision of an apocalyptic flood and builds an ark to help his family escape. The character was originally supposed to be played by Christian Bale or Michael Fassbender, but both declined.
Image: Paramount
Jennifer Connelly
Connelly is Naameh, Noah's wife. Some people think her name, meaning "pleasant," stemmed from her God-approved actions, but others argue that it came from her tendency to sing happy songs to the idols she worshipped.
Image: Paramount
Emma Watson
Watson plays Ila, the pregnant wife of Shem, Noah's son. Yes, pregnant. It seems that Hermione has left the building.
Image: Paramount
Anthony Hopkins
Hopkins' character, Methuselah, is said to be the oldest person who ever lived. He's also Noah's grandfather.
Image: Paramount
Logan Lerman
Lerman, best known for The Perks of Being a Wallflower, plays Ham, Noah's son.
Ray Winstone
Winstone (Hugo) plays Tubal-cain, Noah's brother-in-law and main antagonist. Liam Neeson, Liev Schreiber and Val Kilmer were all once considered for the part.
Image: Paramount
Douglas Booth
Booth (Romeo and Juliet) is Shem, Noah's son and Ila's husband. The character is best known for his lack of foreskin, which might signify the first ever instance of circumcision. Alrighty then.
Nick Nolte
Nolte plays Samyaza, head of the Watchers, a group of fallen angels who do not-so-great things like fornicating with humans and creating the idea of war.
Frank Langella
Along with Mark Margolis' Magog, Langella plays Azazel, one of the Watchers.
Kevin Durand
Like the others, Durand (The Moral Instruments) is a Watcher, but his character, Og, works to help Noah and, in turn, gets a prime seat on the ark.
Dakota Goyo
The fourteen-year-old, best known for Real Steel, plays a younger version of Noah.