6 Holiday Smells To Match Your Favorite Traditions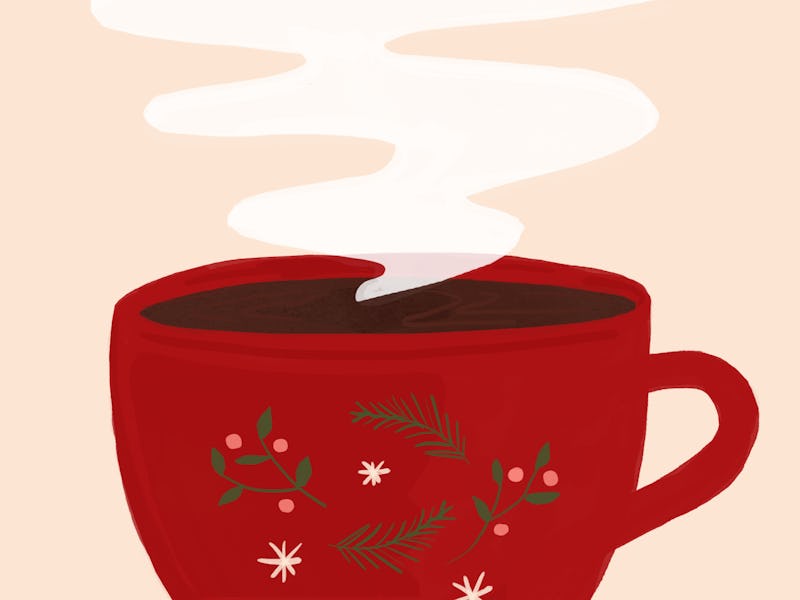 There's nothing that evokes a memory quite like the smell that you associate with it — and that's especially true during the holiday season. In all likelihood, your favorite holiday scents are tied closely to your favorite traditions, whether it's the smell of thyme wafting from a roast that your family makes just once a year, or the scent of pine that greets you as you explore the great outdoors. No matter what smell it is, it's guaranteed to bring you instant nostalgia.
For me, the memory that comes through the most during the holidays involves the smell of sauce. (Kind of weird, I know). For my big Italian family, it's a tradition to eat linguini with red clam sauce (along with a ton of other seafood) every Christmas Eve. My grandma starts the sauce early that morning, and by the time we all arrive, her house smells like marinara heaven. But since holiday traditions are so personal, the memories and corresponding scents can really run the gamut. We've partnered with Folgers® to bring you a few heartwarming stories of holiday memories that smell delicious. Here's what people had to say about their favorite holiday smells and the memories they evoke.
1. Pine Trees
"The smell of pine trees gets me every year. To me, it represents the love and quality time with family that comes with the holiday season. It instantly brings back memories of heading to the tree farm with my parents and brother, walking through the farm to pick the perfect tree, and then drinking hot chocolate while watching my dad wrestle it onto the roof of our car." — Brianna, 28
2. Homemade Bread
"The smell of freshly baked bread always reminds me of my grandpa. Around the holidays, he always used to keep my family fully stocked with our favorite loaves of cheese bread, chocolate chip bread, and his special onion dill bread that he'd bake for Christmas dinner. My dad continues the tradition for all of us, and whenever the smell of the bread baking starts filling our home, we inevitably all start reminiscing about our amazing memories with our grandpa."
— Allison, 26
3. Peppermint Bark
"My favorite holiday smell comes after prying off the lid to my favorite brand of peppermint bark. When I inhale that first whiff of chocolate sugary goodness, it's the best day of the year."
—Elly, 23
4. Coffee
"The smell of coffee always reminds me of the night before Christmas. When I was a kid, my brother and I shared a room. Every year, we would try and stay up all night to wait for Santa. But, we were expressly forbidden from going downstairs to open gifts before my parents felt like waking up. I assume this was their tactic to prevent us from coming downstairs while they were setting everything up. Except, we would always be awake by 4 a.m., waiting for an hour or so until my dad got up around 5. But instead of ever making it to our doors to say, 'Hey, you can go downstairs now,' we'd know he was up when we smelled coffee brewing in the kitchen. And we would bolt."
— Scott, 29
5. Gingerbread
"For me, the smell of gingerbread reminds me of the holidays. It's a cozy, comfortable scent that brings to mind baking, singing carols (yes, we really did go door to door and sing!), and family time. Every November I bake a gingerbread cake or cookies to set the tone for the rest of the season."
—Neena, 40
6. Waffles
"Every year, my family makes waffles on Christmas morning, so the smell of waffles definitely reminds me of being home for the holidays. Breaking out the waffle iron is a special occasion and gets me excited for the day ahead of visiting family and friends."
— Erin, 27
This post is sponsored by Folgers®.
Artist: Mary Blount