Here's Where To Snag The Sold Out Koko Kollection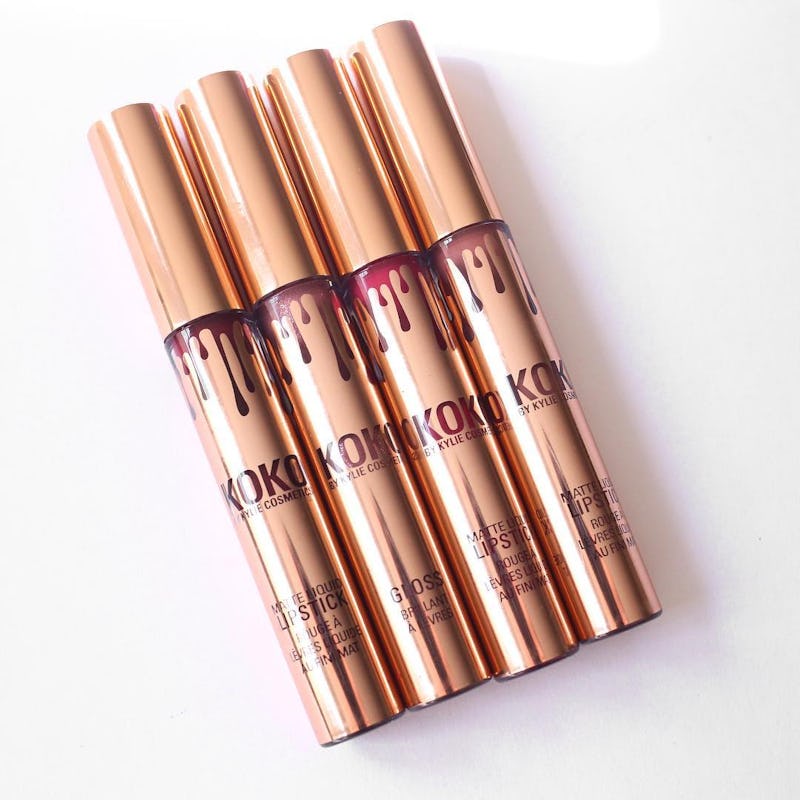 It seems as though Thursday's restock of the Koko Kollection may be its swan song. According to Jenner, the collection was only meant to be a one time launch, but because of its popularity, it was brought back. About two hours after it was restocked, it sold out and it might not be coming back, so where can you find the sold out KoKo Kollection? As it turns out, the collection may not be fully retired after all. Instead, there's a bit of a tricky way to snag a lippie from the incredibly successful collaboration with Jenner's sister Khloe Kardashian.
On Wednesday, Jenner took to her Snapchat to debut her new Kylie Cosmetics Holiday Edition Collection. Fans are probably still reeling from the announcement, but one addition to the collection stood out for fans looking to snag the KoKo Kollection. Inside the limited edition holiday box, fans can find the new KyShadow palette, three new creme shadows, and a white Kyliner. Alongside these, however, are then lippies. One of them just happens to be the Koko Kollection shade Okhurrr.
The vibrant fuchsia lip is the last remaining part of the Koko Kollection once it sells out during the restock, and let's be honest, it's basically guaranteed to do so. The Kylie Cosmetics Instagram even posted about supply being low.
If for some reason you missed the restock, you can still get the most popular shade from the collection.
Plus, if you buy the limited edition holiday box, you can snag tons of other products. However, expecting fans to buy an entire collection for one lippie may not be the most realistic option. Instead, fans can always head to eBay to search for the product. Warning: Be aware that price hikes may be a serious issue.
While the Koko Kollection may be over, a part of Kardashian's collaboration with Kylie Cosmetics lives on. Now, we're all left to wonder which Kardashian or Jenner sister is next.
Images: Kylie Cosmetics/Instagram