Here Is When To Shop UD's Complexion Primers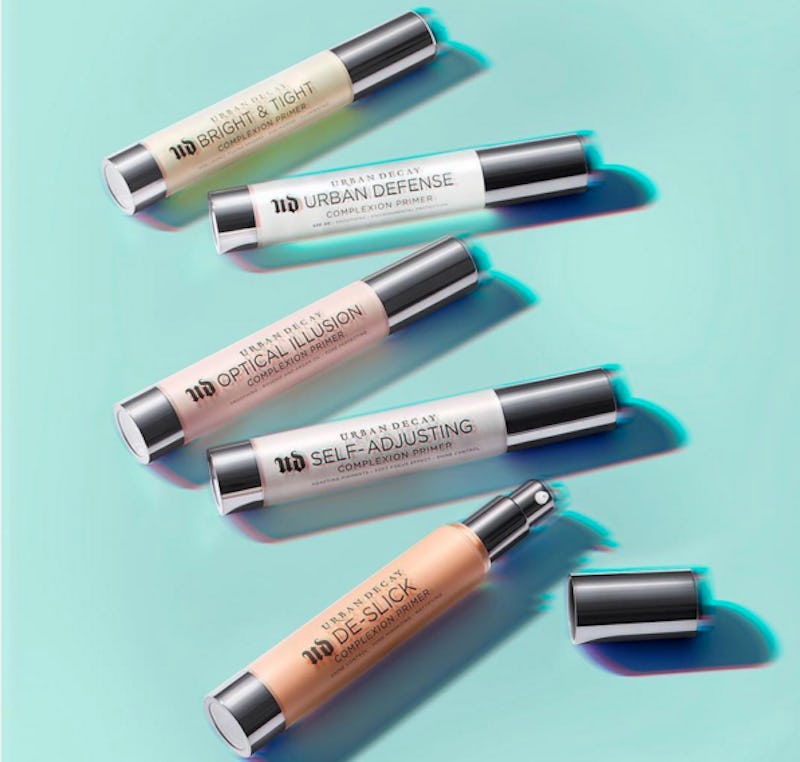 If you have been itching for a new UD beauty launch since their NAKED Ultimate Basics palette, then you're in luck. The brand has announced the upcoming launch of a new line of primers, and it's just the thing to complete your current makeup collection. When do Urban Decay's Urban Defense Complexion Primers come out? You may now be wondering. Here is what we know so far.
According to Urban Decay's latest Instagram post, a collection of five brand new complexion primers is on the horizon. Each primer comes with a different name and targets a particular purpose, so it's totally reasonable to purchase all five. While the brand hasn't provided a ton of information on the specific use of each, you can sort of guesstimate based on the titles. "Bright & Tight," is surely a firming and brightening primer, "Urban Defense" probably contains some degree of SPF for sun protection, "De-Slick," likely targets oily skin, "Optical Illusion," may have something to do with minimizing pores, and "Self-Adjusting" is probably a combination of them all.
Can't wait to get your hands on these fabulous new items? The brand revealed on social media that the Complexion Primers are set to launch in Spring 2017.
Oh la la. Look at all that newness!
If you are familiar with the label's famous Eyeshadow Primer Potion, then you'll totally fawn over these new primers.
Eyeshadow Primer Potion, $20, urbandecay.com
Urban Decay has yet to release an exact launch date, but it's likely they will announce it on social media soon, so keep your eyes peeled!
Images: Urban Decay (1); UrbanDecayCosmetics/Instagram (1)