The Smart Mirror Is A Makeup Lover's Dream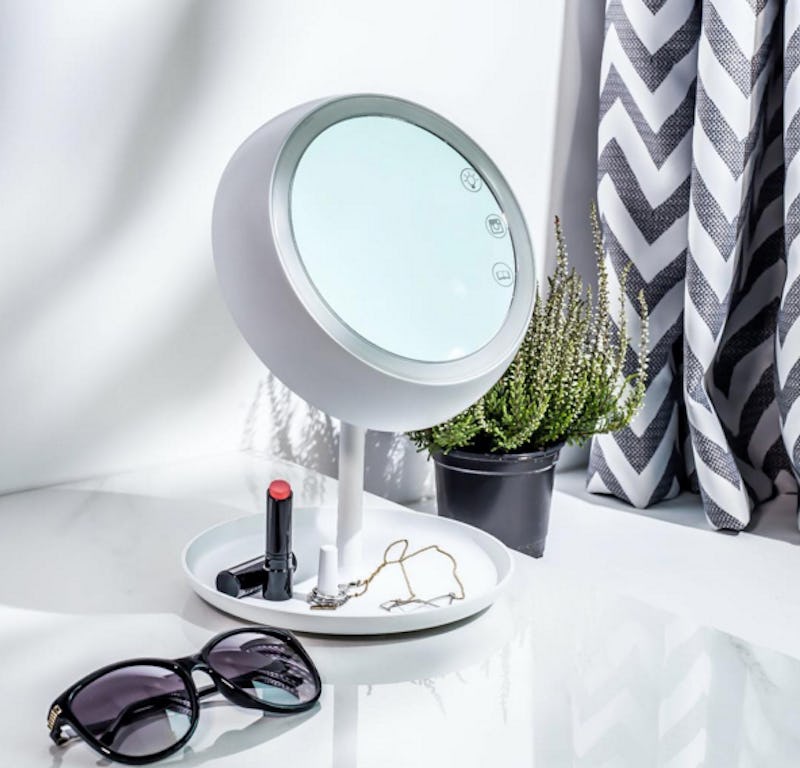 Beauy mavens, brace yourselves, because your makeup routine is about to get a whole lot easier. A company called Juno Beauty Co. is launching a smart makeup mirror that is going to solve all of your makeup problems — seriously. If you have ever experienced the frustration of bad makeup lighting, then you're totally going to be obsessed with this revolutionary new product. Here is how to support Juno Beauty Co.'s Smart Mirror on Kickstarter, because you need this mirror in your life.
So what exactly does the smart mirror do? You must now be wondering. This first-ever intelligent makeup mirror illuminates with a variety of different lighting styles to fit all your makeup needs, including a natural sunlight setting for day-time looks, an evening light for more sultry makeup needs, and even a selfie light, which is designed to create a picture-perfect selfie.
Here is how it works: the Juno app, which can be downloaded right to your cell, uses your phone's sensor to detect the natural lighting in your surrounding to find the most optimal light setting four your makeup application, as is explained on the brand's Kickstarter site. The sweetest part? You can actually attach your phone right onto the mirror for a totally professional-looking hands-free photo. Your selfie game is about to get so strong.
If all of that wasn't enough, the mirror actually turns into a portable reading lamp.
It even has a circular tray at the bottom so you can easily store your makeup while applying.
It's basically four products in one.
If you're dying to snag a piece of the action, then you'll definitely want to support the brand's Kickstater campaign. While they have already raised over $25,000 there are still 46 days to go. According to a Juno Beauty Co. representative, the mirror could hit the market early next year.
Hopefully these super smart mirrors will land on our vanities soon! Fingers crossed.
Image: JunoBeautyCo/Instagram