Lucious Outsmarted The Feds Again On 'Empire'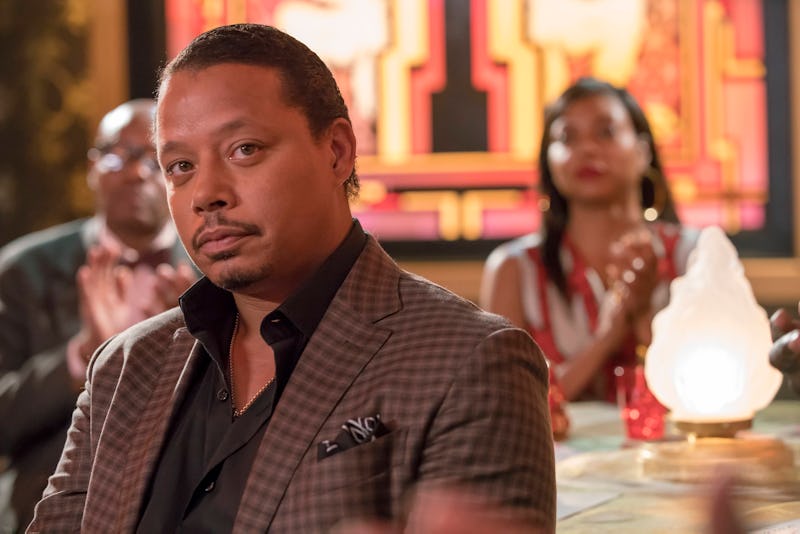 If I had a dime for every time the FBI wanted to pursue Lucious Lyon over the course of Empire, I would be as rich as Lucious is. This man is like Teflon, and it's so annoying that nothing can stick to lock him up. Not to say that his sons are any better — Andre is particularly turning into Lucious and I hate it — but Cookie could run Empire Enterprises without any problem. Anika could, too. Send Lucious to jail (again). Unfortunately, Lucious is using his mentally ill mother on Empire as a way to beat the feds, and, as always, it seems his horrific actions have allowed him to somehow escaped their wrath — for now.
Tariq — an FBI agent who just happens to have the same father as Lucious, so let's talk about conflicts of interest here — has been on Lucious' tail for a long time. Everything Lucious does is bugged, and Tariq is listening in. He has an agent listening to a lunch that Lucious has with Anika and Lucious' mom Leah, and Leah makes a scene, telling Lucious she doesn't want to be locked up again. Then, Tariq intercepts Leah at one of her doctor's appointments to get her to cooperate with the investigation. He takes her out for ice cream, they talk, etc. etc.
I really thought that Tariq was going to make Leah disappear. Not in a mafia way, but in a literal way. You know, take her far away from Lucious' clutches. I was all excited to see this unfold, and then boom. It turns out that Lucious and Leah orchestrated it all.
Come on, Empire. Can't Lucious go down for something? It's been at least a season since he's been in trouble. His constant machinations have to be exhausting. Staying one step ahead of the FBI is tiring. But, at this point, I'm not sure that Lucious will ever be caught and charged with anything. He's too smart, and he has his family working for him. In Lucious' world, blood is usually thicker than water. Unless his mother flips on him, he'll be safe for a while.
Images: Chuck Hodes/FOX (2)