Here's The Deal With ColourPop's Top Secret Bag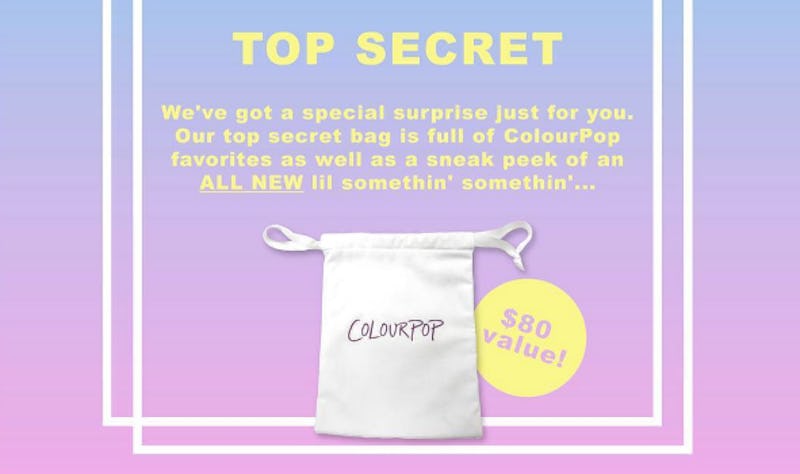 I don't know how ColourPop does it, but they get better by the day. The company is constantly adding new products to their site and creating new shades, but their latest is one that no one saw coming. ColourPop created a Top Secret Grab Bag that had old favorites and something brand new. If you're wondering if ColourPop's Top Secret Grab Bag is sold out, the answer will surprise you.
If you thought ColourPop's recent sales were good, then you won't believe what they've come up with now. According to their social media, ColourPop created a Top Secret surprise for their customers that had a brand new item inside. Unfortunately, the bag sold out in four minute. Yes, you read that right. That's a faster sellout than the first round of Kylie Lip Kits, people!
According to the email, the Top Secret Bag was "super limited edition." Considering it sold out in less than five minutes, they weren't kidding either. The company didn't say exactly which products were inside, but they did show a photo of the bag on the site. It's a small, drawstring bag with the ColourPop logo on the outside. Other than that, everything was kept a secret until customers receive it in the mail.
Top Secret, SOLD OUT, colourpop.com
The site says that the bag was worth over $80 in products, but it was sold for $20. At such an affordable price, it doesn't surprise me at all that these flew off the virtual shelves. It's pretty incredible that people instantly bought the bag, even though they didn't know what was inside though.
There's no telling what the all new products is inside. It could be anything from a new lipstick formula to a completely new item all together. I guess we'll have to wait until these little mystery bags get opened.
Top Secret, SOLD OUT, colourpop.com
I don't know about you, but I'm dying to know! Fingers crossed that they let their fans know what's inside soon!
Images: colourpopcosmetics/Instagram (1)