These Siblings Are Total #ChristmasFamilyGoals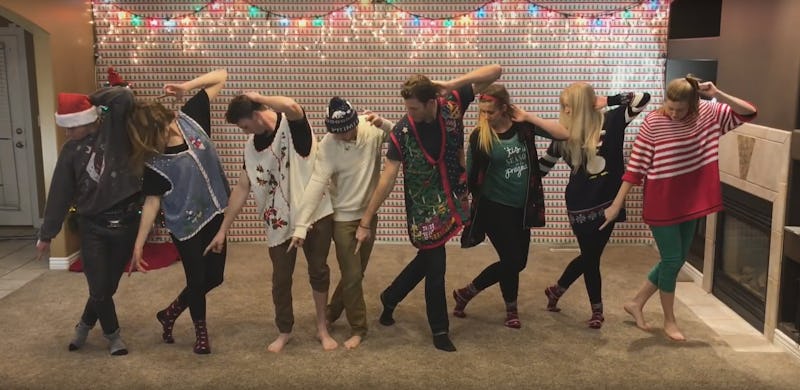 You may not know the Orgill family's names, but it's likely you've seen their infectiously addicting family dance videos over the holidays — since 2015, they've been completely viral, thanks to a Facebook share by the infamous Alex from Target. With over three million views on YouTube, (and 40 million views on Facebook thanks to Alex,) the Orgill Family became a sensation seemingly overnight, and after watching the videos, it's totally easy to see why: The family (consisting of eight siblings) all seem to be genuinely having fun while dancing to some of the best holiday music there is. If that's not total #familygoals, I don't know what is. Though the video is great, though, and totally deserves to have gone viral, fact that their family Christmas dance video was all over the Internet was, of course, surprising to the Orgills.
"Yeah, we were not expecting that at all," Melanie Webster, one of the eight siblings who co-choreographed the 2015 video with her brother Ammon Orgill, tells Bustle. "We were just doing something for fun, and our friends and family are the ones seeing it and think it's something funny. Certainly no one else."
Nevertheless, what started as a small family tradition is now an internet sensation. The eight siblings, Webster, Ammon, Dave Orgill, Ashby Orgill, Kenna Orgill, Joseph Orgill, Larene Orgill, and Spencer Orgill, meet up for Thanksgiving and practice for an entire day (in 2016, up to 14 hours) to make sure that every bit of the dance is perfect. They pull out no stops in their 2016 dance video, even including a few flips.
The first Orgill Family dance video was created five years ago, and they had absolutely no intention of keeping up the tradition. However, after having such a blast with it, the family explains, they decided to keep it up. Each year they add popular Christmas music, including Justin Bieber's "Drummer Boy" and Mariah Carey's "Santa Claus is Comin' To Town." They're also adding popular dance trends from that year into their videos, including the Nay-Nay in 2015, as well as the Ju-Ju and a #MannequinChallenge this year. Although Ammon is the creative mastermind behind these videos, the family tries to connect throughout the year by sending dance videos and ideas for the upcoming holiday.
However, it isn't their dance videos that make this family ultimate goals, but their family history.
"We're kind of an interesting family," Webster continues. "Three of us were adopted, and we're all actually really different people. But we just get along together really good, and this is the type of stuff that keeps us close. As we all get a little bit older and living our own lives, we try to keep those traditions and rituals that we enjoy."
And coincidently, so does the internet. Here are a few of their dance videos from previous years:
The 2015 viral video feat. Justin Biebs and the Nay-Nay
The 2014 video feat. Justin Biebs, again, with 'Drummer Boy'
The 2013 video feat. Mariah Carey's 'Santa Claus Is Comin' To Town'