This Four-Way Makeup Pen Is A Total '90s Throwback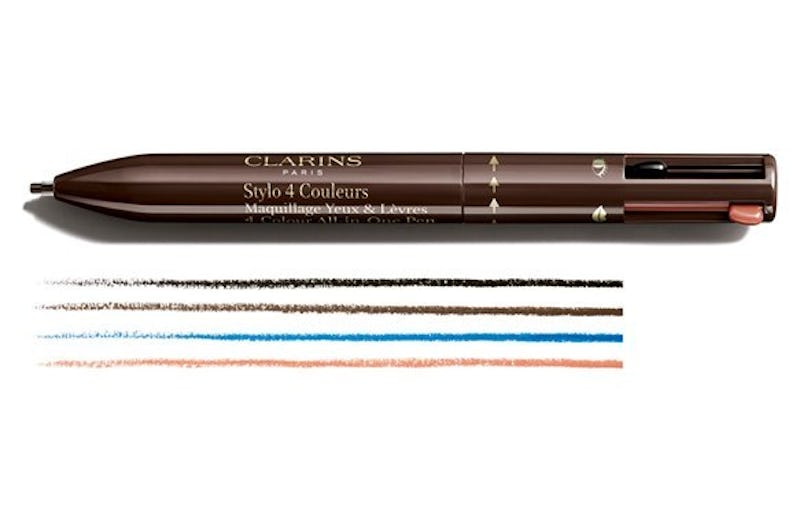 School supplies from the '90s were the best. Glitter gel pens reigned supreme, Lisa Frank trap binders jazzed up our desks, and clicky four-way pens made taking notes during science bearable. Now you can bring all that back with the Clarins 4-Colour All-in-One Pen, which will bring a heavy dose of nostalgia into your beauty routine.
"The pen takes the same concept as the novelty school supply and applies it to your beauty routine, but in this case, the barrels of ink are three super smooth eyeliners and a versatile lip liner," Allure reported. Instead of having to clutter up your makeup bag with a bevy of different liners, this pen lets you have four different colors neatly compacted into one implement.
The three eyeliner shades vary from a dark black, a true brown, and a deep blue, and the lipliner is a nude shade that you can use to touch up your lipstick throughout the day. The eyeliner options could easily create a dramatic smoky eye or crisp cat eye, a daytime look with the brown kohl, or add a playful touch with the navy blue on your eyelid or waterline. And while the nude lip liner might not help you if you decide to rock a red lippy or vampy shade, it has your back during the days you decide to go for a natural lip.
4-Colour All-In-One Pen (Limited Edition), $30, coming soon from clarins.com
If you're already planning to make this fun tool part of your regular makeup routine, you're going to have to act fast. According to Allure, the Clarins 4-Colour All-In-One pen will hit stores in early January and be limited edition, so prepare to snap it up quickly once it hits the shelves.
Images: Nordstrom (1)