Kat & Jerrod Are Spilling Better Together Details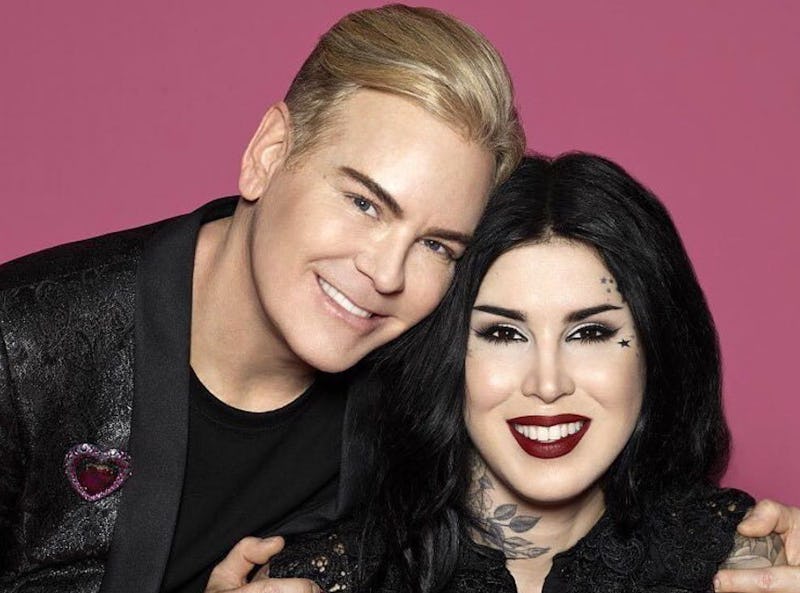 They're spilling the tea about their epic, blockbuster, never-been-done-before collab! Kat Von D and Too Faced's Jerrod Blandino are participating in a Facebook live segment to reveal all the details about their Better Together partnership. Better Together is a mashup between Kat Von D's dark, edgy, and rock 'n' roll aesthetic and Too Faced's feminine and fun vibe. How can get you get all the details about Kat Von D x Too Faced Better Together via this event?
OMG, it's so, so, so easy. Here's all the critical intel about the Kat Von D x Too Faced Facebook Live segment. The event takes place on Monday, Dec. 19 at 3pm ET/12pm PT. It runs for one hour. You can log on and watch at Kat Von D's Facebook page. There, you will witness KVD and JB chat with host and vlogger Kandee Johnson about their limited edition collection and more. The dynamic duo will answer questions live.
Queries can be submitted live during the actual broadcast or in advance via Twitter. Submit questions to @KATVONDbeauty and @TooFaced, using the hashtag #TooFacedxKatVonD or comment on this Kat Von D Facebook post. The submitters of the questions that Von D and Blandino choose will win the Better Together Bestselling Mascara and Liner Duo. Huzzah!
What a duo, right? While vlogger x brand collabs were all the rage in 2016 — hi, Jaclyn Hill x BECCA Champagne Glow or Grav3yardgirl x Tarte Swamp Queen — and rightfully so, this is the makeup mashup I am most thrilled about.
Their brands have total opposite aesthetics, but they really do mesh flawlessly.
Beauty brands can and should co-exist. There's room on the shelves for everyone and this pairing is proving to be majorly anticipated.
Better Together lands at Sephora on Monday, Dec. 26 and gives me a major reason to use any Sephora gift cards I accrue this holiday season!
Images: Jerrod Blandino/Instagram (3)