Why We'll Never Stop Wearing 'Too Much Makeup'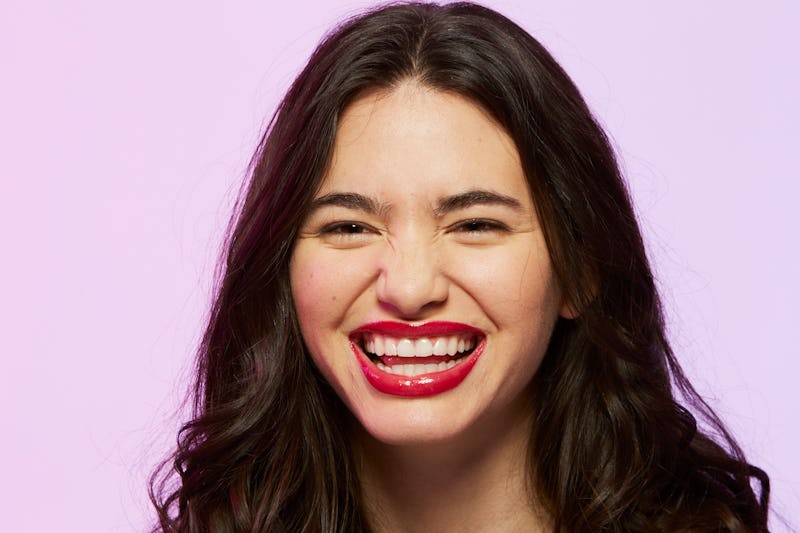 There are two types of people in this world: those who tend to wear makeup as an afterthought, and those who love nothing more than wearing a full face. I fall into the latter category. In fact, I love makeup so much that I skip 10 extra minutes of sleep each day to accommodate my seven-step makeup routine (yes, seven). I start with foundation, and then I follow with concealer, bronzer, highlighter, filled-in eyebrows, a cat eye, and loads of mascara. If I'm feeling extra, I add a bold lip.
But here's the crazy thing: If you would have asked me a year ago about my makeup routine, I would have felt a little shy about sharing the extent of it. Sure, I've always loved a good cat eye, but I haven't always felt comfortable walking people through my process — maybe it's because my old-fashioned dad calls my winged liner "gunk," or maybe it's because my ex-boyfriend once called me out for wearing "too much makeup." Needless to say, I now realize I have nothing to be ashamed of and will always wear makeup for myself.
I wear makeup for confidence, for fun, and I'll always use it as a form of expression. And if there's one holy-grail product that never fails to boost my self esteem, it's mascara. After all, there's no better way to start off your day than with bold, voluminous lashes. And as it turns out, I'm not the only one who feels this way. In collaboration with Maybelline Colossal Big Shot Mascara, I asked women about why they'll never stop wearing "too much makeup" and how it truly makes them feel.
Caitlin, 25
"I'm obsessed with wearing a full face of makeup and a standout look. It's typically a bright orange lip and thick-winged cat eye. When people question or try to tell me I'm wearing too much makeup, I usually pull out my favorite, classic red lipstick and apply another coat."
Olivia, 27
"Makeup allows me to create any look I want; whether it's dramatic or something natural and clean. And I love that I can enhance my features and draw attention to my favorite areas of my face like my eyes. I just love to add a bit of sparkle and look bold."
Sam, 27
"For me, I love makeup, especially playing with bright colors or big lashes. Since I was a preteen (and even before that, when my mom would let me play with her spare products), I loved to try any liner, lipstick, skin care, or blush on the planet. Dyeing my hair every color of the rainbow, including blue right now, has supplemented my love for experimentation. I'm a writer and editor by trade, so having another creative outlet is always a plus."
Shyema, 32
"Makeup is a de-stresser for me. I actually find it therapeutic — is that weird? I really believe in the connection that looking good can help you feel good, and just turn your day around."
Irma, 25
"There's nothing that makes me feel more confident than a sharp cat eye or a bold lip. It's also the first thing anyone ever notices about me. And if I'm not wearing one or the other –– I don't fully feel like myself."
Cassie, 25
"While I do love the feeling of a fresh face, nothing makes me feel better than having my full face of makeup on. I feel more confident, beautiful, and bold. I love how just by adding that extra shimmery shadow on the weekend, I feel 100 percent sexier and ready to take on the night."
Arielle, 27
"When I have a good, even cat eye done with a bold red lip, I feel like I can take over the world. Basically, I feel like a complete, take-charge glamour-puss who can walk into any place, anywhere and get what she wants. Part old Hollywood movie star, part warrior princess."
This post is sponsored by Maybelline.
Images: Bustle; Caitlyn Corcoran/Instagram, Olivia Walker/Instagram, Sam Escobar/Instagram, Shyema Azam/Instagram, Irma Elezovic/Instagram, Cassie Brown/Instagram, Arielle Dachille