Documentary Film 'Outlawed in Pakistan' Breaks Boundaries: Filmmakers Habiba Nosheen and Hilke Schellmann Talk to Bustle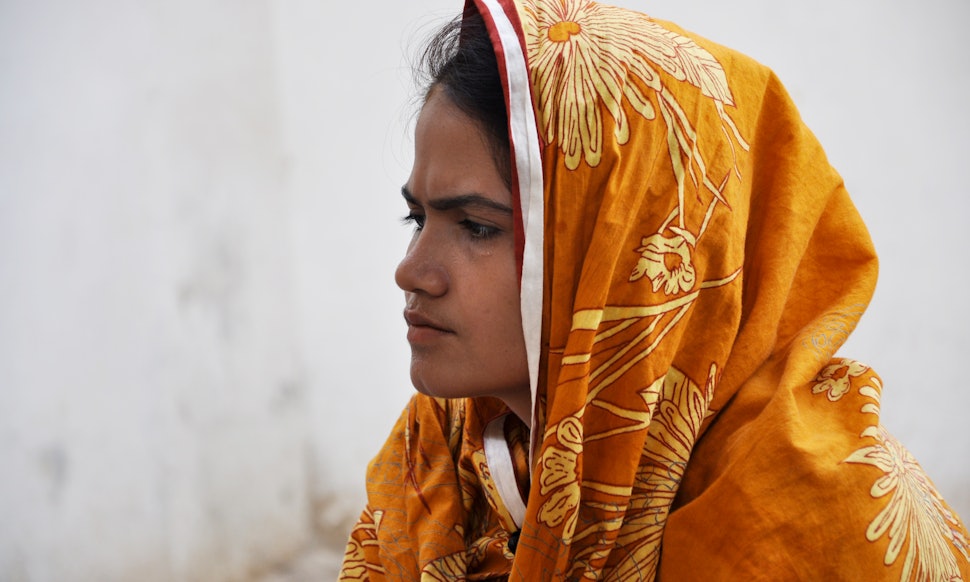 In 2007, 13-year-old Kainat Soomro claimed she was kidnapped, drugged, and gang raped by four men. A few months later, filmmakers Habiba Nosheen and Hilke Schellmann travelled to Soomro's hometown of Dadu, Pakistan, to document the young girl's struggle. The result is the documentary film Outlawed in Pakistan, tracing Soomro's story from the night of her alleged rape to her most recent court appearance–the family chose to pursue legal help after refusing to commit the suggested honor killing.
What comes out of Soomro's tale is the powerful backlash against women's rights and the difficulty of alleging rape in Pakistan. But Soomro and her supporters are also symbols of the power for change grassroots movements can have. A shorter, previously released version of Nosheen and Schellmann's project premiered at Sundance. This expanded version, on PBS' FRONTLINE, digs deeper into the intricate frustrations posed by a traditional society and a flawed justice system that work to silence women's voices. We chatted with Nosheen and Schellmann about Soomro's story and their filmmaking experience. Here's what they had to say.
BUSTLE: How do Sharia law (including the tribal justice system) and secular law work side-by-side in Pakistan?
HABIBA NOSHEEN and HILKE SCHELLMANN: In Pakistan, whenever there is a conflict between Sharia law and secular laws when it comes to age of consent for marriage, the courts tend to side with the Islamic law.
Many rape cases go unreported—or worse, punished with honor killings.
Any attempts at looking at the number of rapes in Pakistan would be inaccurate because sexual violence is extremely underreported. Given the stigma attached to being raped, many women would choose to never speak out about a rape because in most cases the women are often more condemned than even the rapists.
How do traditional ideas of submissiveness and respectability impact women in Pakistan?
As a Pakistani woman myself I would say that there are traditional expectations that are still very common in Pakistan where women are expected to be submissive but I have also seen a huge rise in women's rights in Pakistan where many women are challenging the status quo and are doing so even at risks to their own lives. And Kainat is an example of that shift in Pakistan that we are seeing, where women refuse to stay quiet no matter what the consequence.
What are possible solutions to the current flawed justice system and the difficulty of women speaking up against rape in Pakistan?
DNA! DNA! DNA! These cases can so easily be solved with proper DNA testing and would help women win rape cases in court and will hopefully help repair the image in Pakistan of rape victims. Because it's so impossible to win a rape case in Pakistan, when a woman loses her rape case, it reinforces the attitudes in the country that women who say they are raped are simply liars. If there was DNA testing in rape cases to provide solid evidence this would help change those attitudes because people would see women winning rape cases in court.
What would you answer to those who think Soomro made up the rape story in an effort to get attention?
We are journalists and the film attempts to tell the story of Kainat as well as those of the alleged rapists. We use this case in the film to highlight how the system is failing when it comes to rape cases in Pakistan. It fails to protect women. And because there was little evidence collected by the police it is very hard to know what really happened to Kainat Soomro. That's why when this case ended up in the courts, it became a he said she said battle. We've disclosed all the facts in the case and we trust our audience to come up with their own conclusions.
What is the latest news on Soomro and her family?
Kainat continues to live under police protection and the family is continuing to appeal the case.
Outlawed in Pakistan has been met with many cries of compassion. How can viewers help Soomro and her family?
People have reached out to us asking if they can send Kainat money or the women's organization War Against Rape money. But if we got involved with the financial transactions involving subjects who we follow, we think there would be a serious conflict of interest. We hope our audience understand that. But if people are inspired by our reporting and want to get in touch with people independently and help we leave it to them to do that.
What was your experience as female journalists in Pakistan making this film? Did people seem more or less willing to talk to you as women?
It was really great being female journalists in Pakistan making a film. We were like aliens, but in a good way. Everyone was so nice to us and friendly and no one was really intimated by us, which was amazing as a filmmaker. I think not being taken seriously is one of the best things you can ask for as a filmmaker because than people feel at ease with you to just be who they are which allow you to capture their true selves on camera.
PBS on YouTube
Image: Hilke Schellmann