These GIF Classic Movie Posters Will Take You Back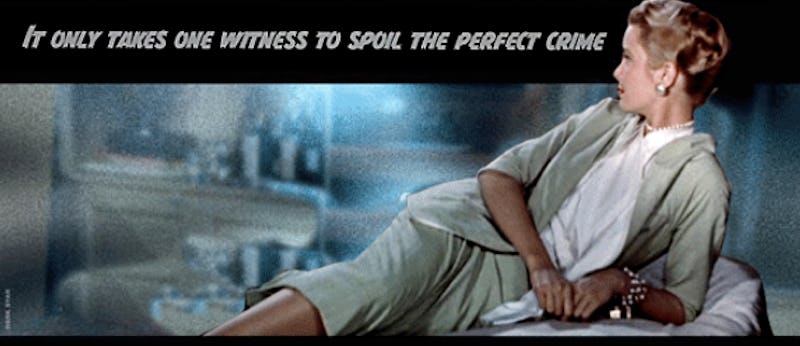 If you've ever wondered what Hannibal would post on his Tumblr or if Vencent Vega has Instagram, a new Imgur has just the movie poster collection for you. Ridiculously-named user Rindfleischetikettierungsuberwachungsaufgabenubertragungsgesetz has finally made what all web-hungry screen junkies desire: Gif interpretations of classic movie posters. Included in his repetoire are most of the major Hitchcock canon, along with other classic horror films and a few stylish but silly contemporary films like Looper and Drive. His first set of giftastic posters focused on a mix of classic action movies, like Kill Bill, combined with a smattering of more current blockbusters, like Skyfall and The Hobbit.
But before classic film nerds cry foul for this artist's combination of internet sensation and retro pop art, remember that many of these movie posters were essentially the gifs of their day. Saul Bass, who created numerous posters and title sequences for Hitchcock's most well-known films, created colorful, dynamic posters and sequences to keep moviegoers' attention from the lobby to the beginning of the film. He is commonly known as one of the great pioneers of film pop art, and although his work had its skeptics in the 1950's and 60's, it is widely recognized today, prompting some artists to give contemporary movie posters a throwback makeover.
Whether you love or hate these gif adaptations, you have to admit that they open a new door for film posters.
The Hitchcocks
This artist clearly loves Hitchcock, since he so lovingly made four of the canonical Hitchcock film posters into painstaking gifs. Let's hope he does North by Northwest or Dial M for Murder next.
The Tarantinos
As soon as they make paper that supports gifs, I'd like both of these on my living room wall, side by side. Pitch perfect animation, and they even match.
The Blockbuster Action Films
Even if you like Jennifer Lawrence more than Kim Novak, there is now a gifed poster for you. Feast your eyes on blockbusters of summers past.
Great work, guys. These gifs rule.
Images: Rindfleischetikettierungsuberwachungsaufgabenubertragungsgesetz/imgur