What Is That Song From the Frappuccino Ad?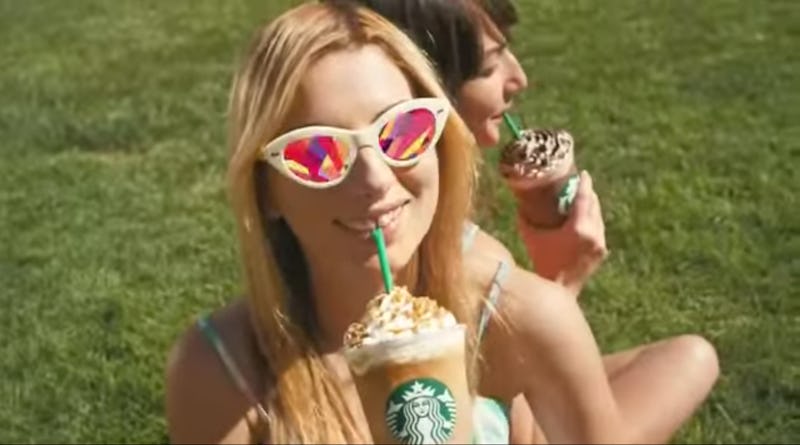 It may be significantly cooler where you are (and/or you have central A/C), but I am currently sweating through my t-shirt. There are multiple boxes of popsicles in my freezer. It's 92 degrees inside my apartment. Summer is HERE. That Starbucks Frappuccino Happy Hour TV spot with the blended coffee drinks, the cheery song, and the Slip 'n Slide really does a number on me. A Frappuccino doesn't sound good. It sounds beyond good. It sounds like the best thing on the goddamned planet right now, as does a swimming pool. Though I cannot make a pool or a Frapp appear out of thin air, I can listen to the song from the commercial. At this sweaty juncture, I'll take what I can get. So what is that steel drum beachy goodness? Don't worry, I've got you: It's "I Got U" by Duke Dumont feat. Jax Jones.
The summery track debuted back in March and topped the UK iTunes charts. British producers Dumont and Jones produced the song, but the female vocalist we hear is session singer Kelli-Leigh. Does Kelli-Leigh's part of the song sound familiar? That's because she's singing Whitney Houston's 1999 hit single "My Love Is Your Love." Neat-o!
If the Frappuccino ad doesn't get you in the mood for summer, the official music video should do the trick: There are sandy beaches, vibrant waters, palm trees, an elephant ride, a boating excursion, a fancy pool, a beachside party, and so on. Checks all of the boxes. It's a dream vacation. No, scratch that. It's a Daft Punk helmet Viewfinder vacation.
Here's the Slip 'n Slide/Frappuccino ad:
And here's the Duke Dumont music video (WARNING: It will make you crave heart-shaped pineapple slices):
That's it. You leave me no choice, "I Got U." I must sit in an ice bath and listen to this song on repeat. Ahhh. Sounds like paradise.
Image: Starbucks