Get Your Nails Done On The Go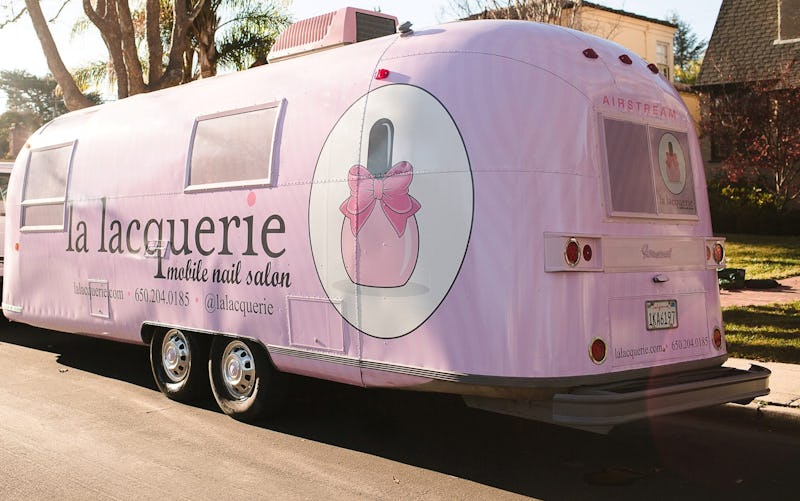 Oh, if only getting your nails done could be as easy as ordering a taco from a food truck. That's precisely the thought that came across 33-year-old Susan Aflak's genius mind, sparking her to create La Lacquerie, the world's first mobile nail shop. Working out of an adorable pink airstream, Aflak and her staff of nail technicians deliver quick, high-quality manicures and pedicures to San Francisco professionals trying to squeeze in a conveniently-timed pamper session.
It all began when Aflak was working as a former investment banker in Los Angeles. Aflak worked insane hours during the week, leaving her no time to address her beauty needs and only enough time to sneak away and grab lunch from food trucks outside of her building. "While I was working, I would run downstairs to food trucks all the time. I thought to myself, if only there was a way to combine the food truck model with beauty service."
Shortly after, Aflak quit her job, created a business plan and bought an old 26 ft Airstream off Craigslist. She also went back to beauty school, got her manicurist license and in January 2014, La Lacquerie was born. Ever since, the mobile nail shop has been a huge hit, especially among San Francisco's tech companies. La Lacquerie is now regularly parked at Google, Gap, Facebook, EA and YouTube. Aflak has even started sending her nail techs to conference rooms to perform manicure meetings.
While Aflak believes her convenient services are what draws customers in, she's pretty sure her trailer is what sets them apart. Aflak spent a year renovating the 1960s trailer, painting it pink, installing plush white seating, pink curtains and a crystal chandelier.
La Lacquerie's services range from $16 to $45 and while they only offer manicures and pedicures at the moment, Aflak would love to one day offer waxing and massages. Currently, they only have one truck based in San Francisco, but she hopes to expand to other cities.
While La Lacquerie is the first mobile nail shop, this trend of on-demand beauty service is on the rise. NYC's GlamSquad allows users to book hairstylists for in-home blowouts in less than an hour. Smartphone app Zeel offers same day in-home massages from licensed massage therapists. Priv promises to have one of their makeup artists, stylists, nail technicians, personal trainers or masseuses at your home 20 minutes after scheduling one. While most of these are not available across the country, I'm certain they'll be making their way to a city near you soon.
Images: La Lacquerie