Rita Ora's Doing An Adidas Collab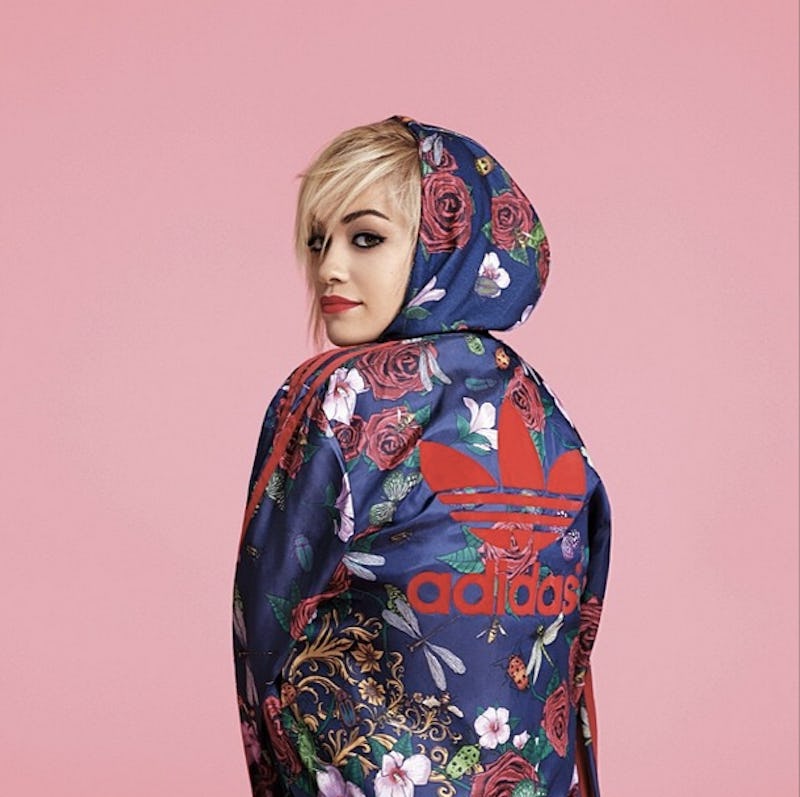 Rita Ora has seriously got it going on. In her free time between living my in my dream land by ripping Zac Efron's off, releasing crazy catchy new singles, or filming 50 Shades of Grey, she's also been working to create her own line of sure-to-be-awesome sportswear in collaboration with Adidas.
Woman's Wear Daily reports that Ora will be the first female artist to do a collab for Adidas, and that the partnership will last for three seasons. That means a whole lot of floral tracksuits to pair with your Instagram'd out sneakers.
There will be five different capsules in the collection — Black, Pastel, Colorblock Packs, Spray, and Roses — with prices ranging from $30 to $500. Some of the awesome sounding pieces include a leather jacket with glow-in-the-dark accents, a jacket with snakeskin details, and "a new pair of sneakers," naturally.
Ora's been previewing some of the looks on her IG the past couple of days, and even though I might not be an avid exerciser, I will certainly be giving in and buying a pair of kicks with rose gold toes. To celebrate the impending launch (the first round hits stores mid-August) of her Adidas collection, here are seven reasons I'm convinced they picked the perfect girl for the job.
1. She Actually Looks Cool In A Tracksuit
This is no easy feat.
2. And Those Flip Flops
You can't even argue that she's going for normcore here. Midwestern dads don't wear bombers with leather sleeves (generally).
3. The Names Kind Of Rhyme
"Rita for Adidas." Adorable.
4. She Matches Her Sneakers To Her Outfit. All Her Outfits.
Even when she's dressing as a Ninja Turtle.
5. She Wears Kicks When Heels Might Normally Apply
Ugh, I wish I was going to prom this year so I could wear this exact outfit.
6. This Perfect Ensemble
Minus the bunny ears, I'll be stealing this look all summer, thanks.
7. She Owns This Track Jacket
Captain of the Varsity Fringe Team.
Images: Instagram/@RitaOra