Would The 'PLL' Girls Survive In 'OITNB'?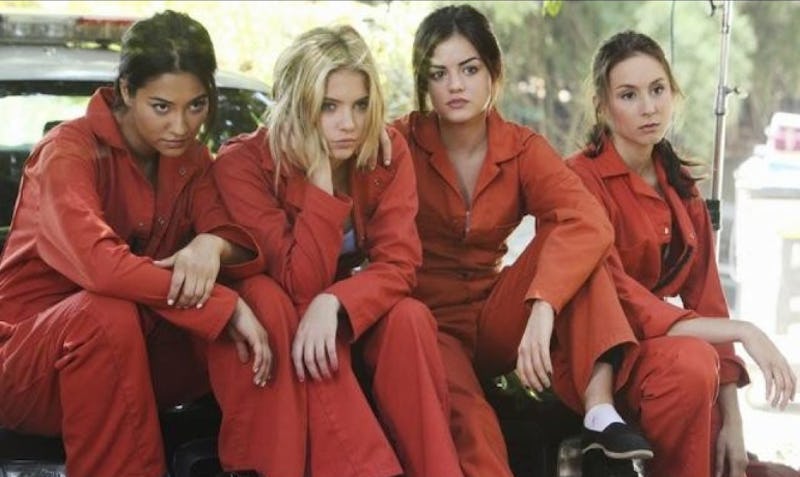 Piper Chapman looks like a saint compared to the girls on Pretty Little Liars . Aria, Ali, Spencer, Hanna, and Emily have done far worse things and kind of deserve to be imprisoned for all the crimes they've committed. They're all guilty of arson, breaking and entering, aiding and abetting, accessory to murder, and withholding information (obstruction of justice). These aren't even including the solo crimes they've committed. I couldn't help but wonder what would happen if the girls of PLL were finally caught and thrown into Litchfield, like the ladies in Orange is The New Black. If the girls thought Rosewood was rough, they would be in for a rude awakening because none of them have what it takes to survive in Orange Is The New Black. Plus, there'd be no more mystery about who's trying to kill them because in prison, murderers don't get to hide under a black hoodie.
So how exactly would prison at Litchfield look for the Rosewood girls? Detective Wilden was a walk in the park compared to life with Pornstache, and V would have them taken out faster than A could send a threatening text message.
Caution: this article contains spoilers from Season 2 of Orange is The New Black.
ALISON DELAURENTIS
Not only has she committed all of the above crimes, but Ali has also faked her own kidnapping and she was the ring leader in all the aforementioned crimes. She has blackmailed countless people and even is responsible for the murder of Ian Thomas. Ali is the toughest of the PLL girls and would know how to manipulate people. She would head up one of the prison factions, kind of like Red, but with V's attitude, which will be her downfall in the end. Like V in the end of Season 2, Ali would be hated by all inmates. She would be smart enough to be feared, but someone would take her out before she is released from prison. And she would be in prison for a long time after what she's done.
HANNA MARIN
Hanna would be doing the least amount of time in prison. Even though she is in there for the crimes above, Hanna's main crime would be for shoplifting. Hers is definitely not as bad as the other girls' crimes, so Hanna is the Piper of the group for sure. She has her moments where she can be a badass if necessary, but for the most part she is a follower, who doesn't know how to keep her mouth shut when she needs to. She would wind up saying the wrong thing and getting starved out pretty quickly.
SPENCER HASTINGS
Spencer clearly has a terrible drug problem and would be imprisoned for it, along with the other crimes with the girls. Spencer may be the only one to make it in Litchfield. She would make herself a leader of a group, but not a strong group and she would be try smart and tactful about her moves, which might even get her out early. If Alex and Soso were one person, that would be Spencer. She wouldn't feel bad getting ahead if it meant getting out early, but she would definitely get beat up more than a few times for her incessant rebellions against prison conditions.
ARIA MONTGOMERY
Aria is hopeless in prison. Of course she would be in there forever because she actually murdered some in cold blood. Aria's love for forbidden affairs makes her the Daya character, of course. Aria would totally be having a sexual relationship with the prison guard. She would fall in love and be in huge trouble as she always is. Unlike Daya, she wouldn't be able to keep the relationship hidden for a second because she's always so completely obvious with Fitz and can't separate her emotions.
EMILY FIELDS
Emily is definitely the Nicky of the group because she might actually survive if she spends her days hooking up with girls and staying off drugs. Emily's major downfall is the fact that she's in love with Ali. In Litchfield, being involved with Ali will definitely get her killed in the end. She's really got to distance herself for once.
Images: ABC Family, ask-miss-alison-delaurentis/tumblr, rebloggy (2), roleplaybuddy/Tumblr, shaybuttah-ashbenzo/Tumblr