There's One Big Problem With Jamie's Face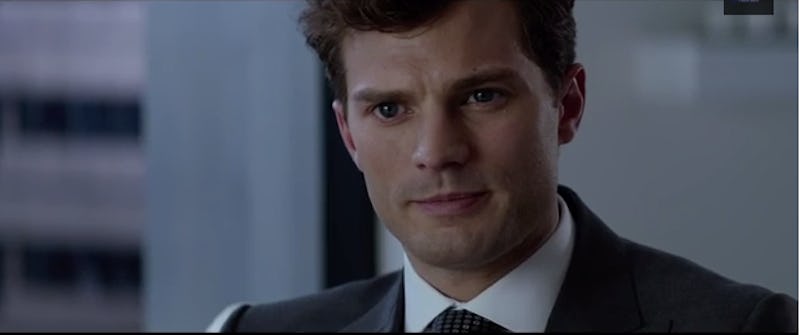 Take my life, but don't take away his beard. The first 50 Shades of Grey trailer is here and while it boasts The Red Room and a special version of Beyoncé's "Crazy In Love," there's one glaring omission — Jamie Dornan's perfect beard. And fans of Dornan from The Fall and Once Upon A Time and of E.L. James' 50 Shades trilogy alike on Twitter aren't standing for it. Basically, the 50 Shades trailer is great, but it'd be so much better if there was a least a little 5 o'clock shadow on Mr. Grey.
There are still the naysayers who think that Dornan can't pull off Christian Grey (they're still calling for Matt Bomer or Ian Somerhalder) and some who think he doesn't look manly enough without his facial hair. (I'd have to disagree, personally, I think he's pretty great. Even if that stare is a little creepy.) But the biggest issue with this trailer, according to Twitter, seems to be that Jamie Dornan is beardless. And since he looks pretty damn good with a beard, why the omission?
Technically, E.L. James doesn't describe Grey as having a beard in the first 50 Shades novel, so that might be why Dornan had to go clean shaven for the role. But that's apparently not a good enough reason, even if you are a 50 Shades fan who's concerned with keeping James' vision pure. Here are some of Twitter's reactions to the missing star of the film's first trailer:
Those Who Just Don't Understand Why
The struggle is real.
Those Who Think It's "Weird"
~Weird~
Those Who Acknowledge That It's A Travesty
"A cupcake without frosting" might be my favorite analogy to date.
And Those Who Desperately Want It Back
What would a CGI beard even look like? And is it possible?
Image: YouTube