39 Dead in Iranian Plane Crash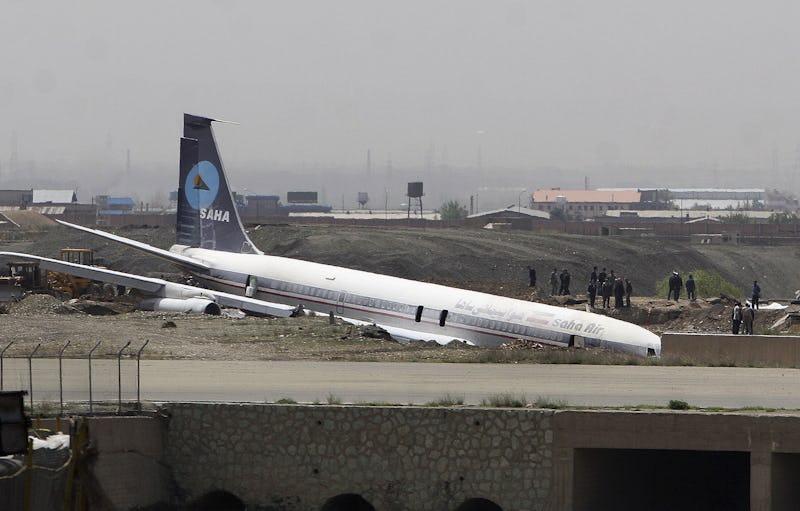 Majid Saeedi/Getty Images News/Getty Images
Tragedy struck Sunday when a passenger plane crashed in Tehran, Iran, killing 39 of the people onboard. Of the 48 people on the plane – 40 passengers and eight crew members – the remaining nine were injured and taken to nearby hospitals for treatment. Five children were on the plane, though Iran's civil aviation agency has not disclosed how many of them survived. The casualty numbers were reported officially by Iran's deputy minister of transportation and are actually an improvement on initial reports from state media, which said that all of the people on the plane perished in the crash.
The Sepahan Air flight, which was an IrAn-140 usually used for brief flights, crashed shortly after takeoff in a residential area close to Tehran's Mehrabad Airport. The plane reportedly had an engine failure around 9:20 a.m. local time as it climbed into the sky, bound for the eastern town of Tabas. Witnesses say it then struck a series of electrical wires with its tail before finally crashing to the ground and bursting into flames. "There was no smoke or anything," one witness told the AP. "It was absolutely sound and in good condition." But despite how things looked, the plane – and many others in Iran – was not as sound as it seemed.
The country is notorious for plane crashes: the last 25 years have seen over 200 accidents involving Iranian planes, killing a total of more than 2,000 people. Some of the country's carriers are still using planes from before the 1979 revolution, which disrupted trade (especially when it came to planes). Even newer planes must often be fixed with unauthorized spare parts due to expense and various international sanctions. The plane that crashed Sunday is an Iran-built model licensed from a Ukrainian company, and it's not exactly the safest in the fleet. In fact, an IrAn-140 counts as at least one of those 200 crashes, as a version of the vehicle crashed in 2009, killing five people onboard.
Sunday's crash, of course, was much worse than the 2009 crash. Soldiers were quickly sent to secure and guard the crash site as officials recovered bodies, most of which were so burned that they must be DNA-tested for identification before they can be returned to the correct families. This still isn't the worst crash the country has seen in recent years – that would be a disaster in 2011 that killed 77 people – but it is a particularly scary moment in a particularly scary year for air travel. The year has seen more than 800 plane-crash deaths. That's more than double the fatalities of 2013. But in the grand scheme of things, last year was just an unusually good one. Your plane is probably going to be fine.