The Chambray Suit: Sexy Or Stupid?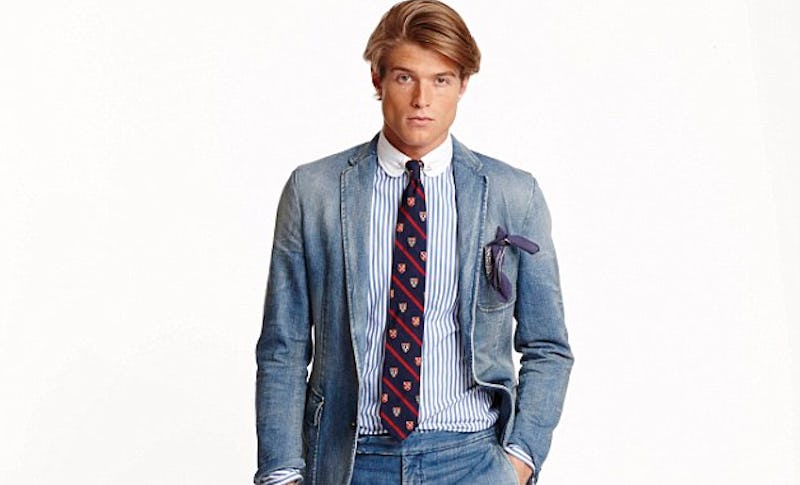 Man, do I love a dude in a well-tailored suit. It shows that they care (at least a little) about fashion — which means we'll get along swimmingly. Even better? During this lovely pre-fall weather we're having in New York, these suited guys tend to roll up their pants cuffs, exposing a hint of mankle that is oh-so-subtly sexy. The only issue with suits is that they tend to give off a stuffy, I'm-super-into-banking vibe that doesn't exactly go well with a Brooklyn dive bar. But fear not, hipsters with office jobs! That's all about to change, with the Ralph Lauren denim suit from the brand's Spring 2015 collection. The Canadian Tuxedo has hit a new level of amazing.
This amazing, jean creation was brought to my attention with an "LOL whut" from a co-worker, but I think it deserves more of an "Ohh. Wow." Would someone wearing this in real life look like they were trying too hard to be cool? Yeah, probably. But that doesn't make it any less fantastically brilliant. And, honestly, the dude who could pull it off wins my undying love for the rest of eternity. Especially if he paired it with the sweet purple handkerchief the model rocks here.
Those canvas sneakers! That Peter Pan-ish collar! Be still, my acid-washed heart.
Sigh.
If the chambray suits aren't really doing it for you, check out the rest of Ralph Lauren's Spring 2015 collection over at gq.com.
Image: Courtesy Ralph Lauren