Great News for You Acabitches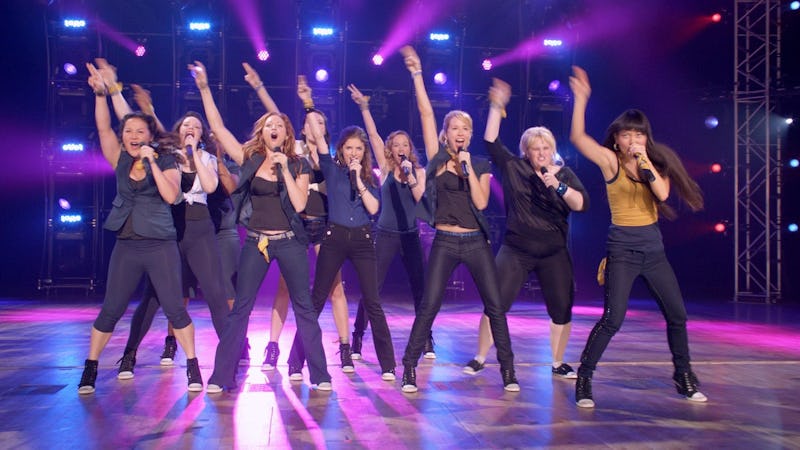 There are 132 days left before Christmas, which means there are approximately 3 days before the back-to-school commercials end and the holiday inundation takes over, which means we're 72 hours early in announcing that there's a Pitch Perfect Christmas album on the way. During a backstage interview at the Teen Choice Awards, actress Hana Mae Lee was the one to drop this aca-bomb of good news on the world. She said:
We have a holiday album coming out so stay tuned. I'm going to be singing a very special song. There are Christmas classics. I'll be singing "Silent Night." I'm pretty sure it's going to be all a cappella. You know, for our Pitch Perfect soundtrack, it's all a cappella — even the percussion. It's all us, so it's going to be sweet though because it's going to sound like there's other things, but it's all us.
Universal has yet to confirm the news, but after watching Anna Kendrick's "Cups (Pitch Perfect's When I'm Gone)" climb to number 6 on Billboard's hot 100, they'd be silly not to put out more music from the cutest made-for-the-movies a cappella team since John Michael Higgins' group the Tone Rangers in the 2006 classic, The Break-Up. (And Gary! On the kick-drum! Cum, cum! On the kick-drum! Gary!)
Even though we can't wait to hear the Bellas soothe us into the holiday spirit with some of their impressive mouth aerobics, we're dubious it'll top the greatest holiday album of all time: Home for Christmas by the one and only, 'NSync.
Unless! Unless the Bellas perform "Merry Christmas and Happy Holidays" on the album — then our minds will be blown.