Lauren Bacall's Wardrobe is Coming to FIT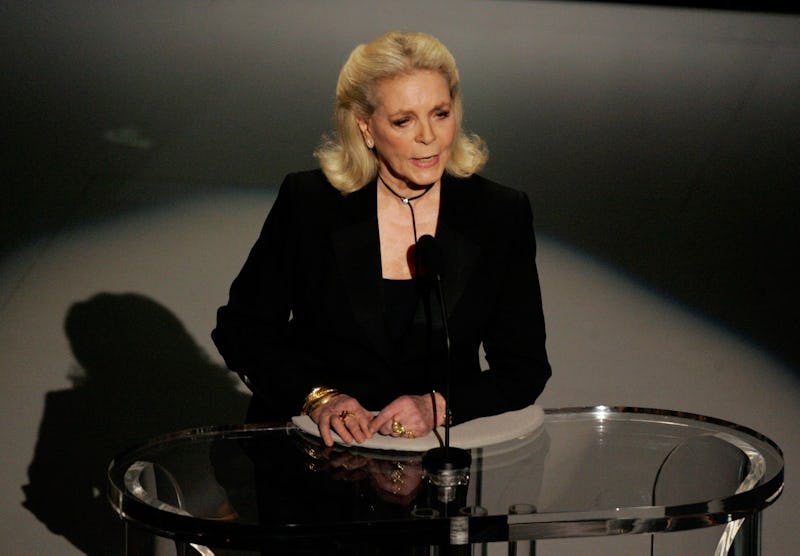 Kevin Winter/Getty Images Entertainment/Getty Images
Lauren Bacall, legend of screen and style, passed away last week at 89 years old to the devastation of her many fans. There is some good news on the horizon, however. Bacall's wardrobe will be exhibited at the FIT Museum next spring, allowing us all a chance to look at her stunning clothing up close.
According to AP, the exhibit has been in the works for awhile. Bacall had donated hundreds of items from her wardrobe to the institution. Shortly before her death, FIT contacted the former actress to ask for permission to turn the garments into an exhibition honoring her personal style. "She said, 'Yes, it's fine, as long as it's high-quality — Diana Vreeland style,'" Valerie Steele, director of The Museum at FIT, told AP. Vreeland, the legendary fashion editor, discovered Bacall in the early 1940s and helped launch her career by placing her on the cover of Harper's Bazaar.
Bacall's recent passing is sure to make the FIT exhibit , which will focus on her fashions from the 1950s and '60s and feature designers Norell, Marc Bohan for Christian Dior, Pierre Cardin, Yves Saint Laurent and Ungaro, a highly popular event. Steele told AP that Bacall donated approximately 700 items of clothing, meaning the curators have a lot to work with. Here are seven of her looks that I'd love to see represented.
1. Houndstooth Jacket
Bad. Ass.
2. Striped
Cool and classic.
3. Modern Silhouette
Bacall was rocking cutouts long before Daenerys Targaryen was even a twinkle in George R. R. Martin's eye.
4. Black and White
Sometimes simplicity is so captivating.
5. Dress and Pearls
Now this is how to do evening wear the right way.
6. Turtleneck Sweater
Turtleneck sweaters can be homely, but not when paired with crisp trousers and dark lipstick.
7. Silk Scarf
Loving how the shade of the lipstick picks up the colors in the scarf. Matching 101 with Lauren Bacall.