It's Been a Decade Since the 2004 VMAs & It's Time to Relive the Magic — PHOTOS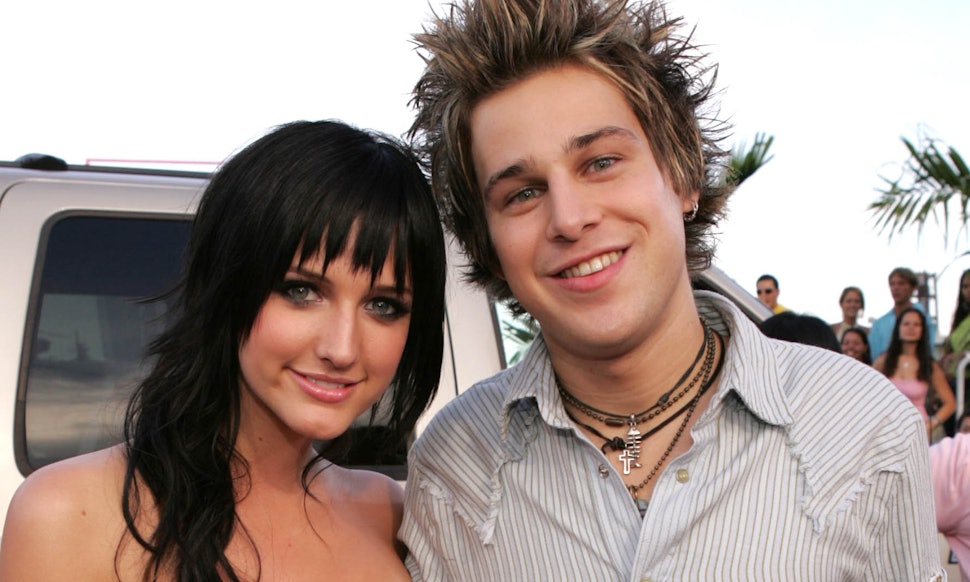 Frank Micelotta/Getty Images Entertainment/Getty Images
Yes, it's that time of year again. It's the end of summer and the start of a new school year, which means it's time for the MTV Video Music Awards. Love it or hate it, the VMAs are known for one thing: spectacle. After all, it was last year's VMAs that brought us the Miley Cyrus/Robin Thicke Twerkgate.
But let's travel back, to a much simpler time: 2004. Sure, it may seem like it was yesterday, but it's been a decade since the 2004 Video Music Awards. It was an election year, back when pop-punk ruled the airwaves, "that's hot" was the catchphrase of the day, and Usher was in his Confessions phase. Dubstep hadn't yet entered the mainstream, Beyoncé and Jay Z were going strong, and of course, 40-year-old blonde news anchors still had no idea what "twerking" was. Hell, it was still two years before Twitter would even be invented!
So let's spend some quality nostalgia time and look at some of the strangest moments from the 2004 Video Music Awards...
Ashlee Simpson and Ryan Cabrera
No relationship describes 2004 more than Ashlee Simpson and Ryan Cabrera (after all, it was The Ashlee Simpson Show that gave Cabrera his 15 minutes of fame). But really, nothing is more dated than Ryan Cabrera's frosted, gelled-to-heavenly-heights hair. It is the most.
Paris Hilton and Nick Lachey
You almost feel bad for Nick Lachey and Paris Hilton, smiling like they have no idea that they'll become completely irrelevant in the next five years.
JoJo
Oh JoJo, did you get stuck somewhere back in 2007? Come back to the present! Just don't bring that terrible denim miniskirt with you, I'm pretty sure those were outlawed in 2010.
Lenny Kravitz
2004 was evidently The Year of No Shirts. Here's Lenny Kravitz, wearing wings and a lot of fringe. Who knew you could made abs that good look so terrible?
Andre 3000
And here's actual Jimi Hendrix actor Andre 3000, doing shirtlessness the only way he knows how: with a beret and an ascot. And as always, he somehow pulls it off.
Usher
But of course, no one can ever be more shirtless than Usher. So he upped his game and performed shirtless in front of a mirror, to give you double the shirtless Usher.
Tony Hawk
This was back when the Video Music Awards decided to make an entire category for "Best Video Game Soundtrack," hence Tony Hawk, skating onstage for the Tony Hawk's Underground soundtrack. This also proves that the Video Music Awards are run entirely by 13-year-old boys.
Hoobastank
HOOBASTANK. HOO. BA. STANK. I just want everyone to take a moment to remember that we all collectively decided that it was a totally OK idea for a band to be named Hoobastank. And they were not good . And we still listened to them.
Shaquille O'Neal
Ladies and gentlemen, basketball player Shaquille O'Neal, who evidently left his shirt at home. And his jacket. And his tie. And his sense of dignity. Whatever, it's 2004!
Jessica Simpson
I wish I could explain why Jessica Simpson decided to descend from on high on this wedding-cake-like hoop, but I have no idea what is going on here. I also have no idea why Simpson decided it would be a good idea to wear pinstripe pants with a sequin vest… is she a fancy lady pimp? It's all very unclear.
Hilary Duff and Matthew Lillard
First of all, I don't think Matthew Lillard was even really famous in 2004. Second of all, note that this is Hilary Duff in her prime "Coming Clean" post-Disney phase. But most importantly, these are two of the whitest people in the world, and they are introducing the award for Best Rap Video.
Usher, Lil Jon, and Ludacris
This is a performance of "Yeah!", the song that you couldn't stop hearing in 2004. But Usher decided to endanger his "bad boy" reputation by stealing the outfit that your mom wore to the beach and wearing it to the VMAs.
Good Charlotte and D12
Oh Good Charlotte, the band that made teenagers feel safely rebellious. Also, D12, a rap group that I do not remember but apparently they served as Eminem's glorified backup band in the early 2000s. So, you know, a match made in heaven.
Nelly Dipping Christina Aguilera
Christina in her retro fetish phase being dipped by an uncharacteristically suave Nelly. Both Nelly and Christina at the height of their careers, performing one of their least-remembered songs, "Tilt Ya Head Back."
The Kerry Sisters and the Bush Twins
This is back in MTV's (and more specifically, P. Diddy's) "Vote or Die" phase. Here's how their thought process went for getting the Kerry and Bush girls at the VMA's: we need young people to vote. The Kerry and Bush daughters are young. Get them on TV to speak young people language! Krumping!